Other News
Kovsies honours athletes who performed during tough times
─── 07:31 Thu, 19 May 2022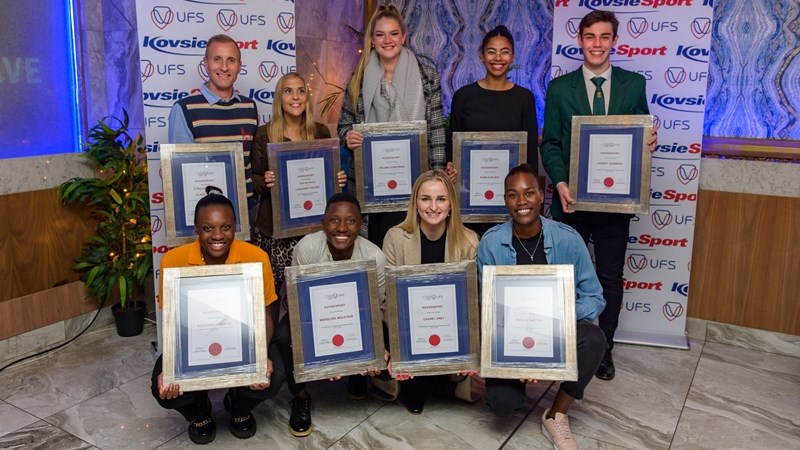 Many things might have gone unseen in the Covid-19 pandemic and therefore it is even more important to honour sport stars who showed true resilience during tough times.
This is according to the Paralympic star Louzanne Coetzee, who was the guest speaker at a special KovsieSport Awards function on Tuesday (17 May 2022).
Coetzee, who won a silver and bronze medal at the Paralympic Games in 2021, encouraged athletes from the University of the Free State (UFS) to keep on inspiring others.
The UFS honoured eight stars at the function, with the theme honouring the brave, who managed to still take part on an international level from 2019 to 2021.
Those honoured were Khanyisa Chawane (Proteas), Bianca de Wee (SA U21), Sne Mdletshe (SA U21; Proteas), Refiloe Nketsa (Proteas), Lefébre Rademan (Proteas), Rolene Streutker (SA U21), Chanel Vrey (SA U21; all netball) and Robert Summers (South African team; badminton).
Coetzee and her guides, Claus Kempen and Estean Badenhorst, received a special award for their Paralympic achievements.
"The fact that our athletes and KovsieSport managed to be resilient and still have achievements to celebrate is really great. And the fact that we celebrate them it is important," Coetzee says.
DB Prinsloo, former Director of KovsieSport, is immensely proud of the UFS students, their coaches and his sport managers.
"To have such a function, you need achievements. If you don't have somebody that excelled, we wouldn't have had the function.
"These athletes honoured are people who had to practice during lockdown in some or other way," he says.
"We had to be innovative and decide how we are going to do it and what are we going to do. They even made WhatsApp videos to practice at home."
Chawane admits lockdown was tough, but says sports people had to keep pushing.
"Yes, it was a difficult time in terms of training and those things. But at the same time for me it was a positive to replan, see where I am and where I wanted to be. And work towards that.
"Creating those small goals during lockdown helped to keep where I am at."
Jóhann Thormählen