Other News
Strong starts for UFS and NWU
─── 08:13 Mon, 21 Aug 2023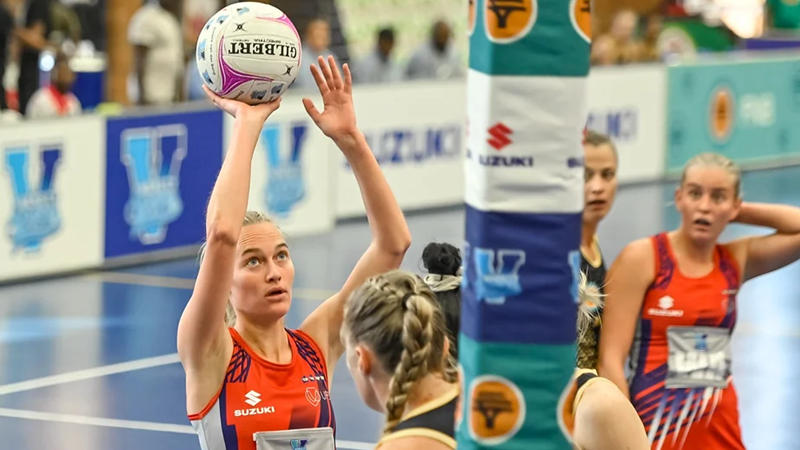 The University of the Free State Kovsies and the North West University got off to a strong start in the 2023 Varsity Netball with emphatic wins on Sunday in round one at Wits.
Kovsies got their campaign off to a great start when they managed to overcome Madibaz 55-27.
The game began quite tentative with very little to separate the two teams and Kovsies enjoyed a slender 11-8 lead after the first 15 minutes. The next quarter saw a better defensive display from Kovsies while Madibaz failed to string passes together consistently. The higher tempo by the Free State team was evident in the number of intercepts, with Kovsies making a staggering 11, compared to the three of the Madibaz. Kovsies increased their lead to 30-17 at half-time.
In the second half of the match saw Kovsies enjoyed the better of the exchanges while being relentless on defence. Madibaz struggled to keep up and the match was concluded with Kovsies walking away with a well-deserved victory.
Liame de Lange was certainly the standout player throughout the match, producing six intercepts, six deflections and a rebound which in the end earned her the Player of the Match award.
Quarter scores: 11-8 / 30-17 / 41-22 / 55-27
Player of the match: Liame de Lange (UFS)
NWU capped off the first day's play with a hard-fought 51-36 win over a resilient UWC.
The game saw NWU starting like a house on fire, dictating the pace of the game and with UWC struggling to keep up. The first quarter concluded with NWU in a commanding 23-5 lead, setting the scenario up for a big score in the match. The second quarter saw the team from the Western Cape come out with a different kind of energy, where they looked to move the ball around at their own pace, which lead to more scoring opportunities. UWC outscored their opponents in the quarter, but it was still NWU that went into the half-time break 31-15 up.
The third quarter saw UWC fall further behind with NWU adding a further 10 goals. It was a tough quarter for UWC, but it seemed they left their best netball for the final quarter, as they took it to NWU, utilising the power play very well to cut the deficit. UWC certainly showed that they could be a dangerous opponent in this competition. Unfortunately for the ladies from the Western Cape, their fightback was a little too late against an experienced NWU team who managed to hold on for a 51-36 victory.
Quarter scores: 23-5 / 31-15 / 41-21 / 51-36
Player of the match: Sanmarie Visser (NWU)
On Monday at 17:00, NWU will be in action against UJ, while at 19:00 Kovsies will be up against Maties.