Rugby
Griquas name 12 debutants for Currie Cup opener
─── MORGAN PIEK 12:55 Thu, 13 Jan 2022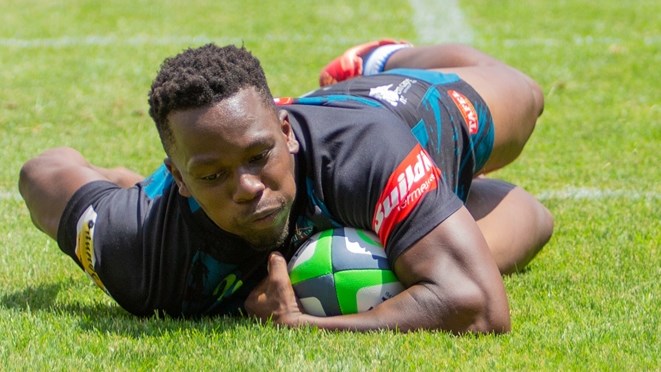 The new-look Tafel Lager Griquas will feature a total of 12 debutants on Saturday in their Currie Cup opener against the Toyota Cheetahs in Bloemfontein.
The Griquas, who are under the guidance of the new coach, Pieter Bergh, will also see eight of these 12 players making their Currie Cup debuts.
In the backline, Munier Hartzenberg, Luther Obi (both wings), Rynhardt Jonker (centre) and Zander du Plessis (flyhalf), will also be on debut.
Jonker, who joined the Griquas from the Sharks, is the son of the referee, Marius Jonker.
Among the starting forwards, Niel Otto (flank), Derik Pretorius (Lock) and Eddie Davids (loosehead prop) will all run out for the Peacock Blues for the first time.
Kudzwai Dude, Justin Forwood, Johan Retief, Michael Amiras and Sango Xamlashe will also represent the team from Kimberley for the first time.
After playing at centre against the Cheetahs a week ago in a warm-up match, Du Plessis starts as the backline marshal and he will fancy his chances as his direct opposite, Chris Smit, will play at flyhalf for the Cheetahs for the first time.
Hartzenberg, Jonker, Du Plessis, Pretorius, Davids, Dube, Retief and Amiras will all be playing in the world's oldest domestic competition for the first time in their careers.
For the coach, Bergh, it will also be his debut as a head coach in the Currie Cup after joining the Griquas from the CUT Ixias during the off-season. During his previous spell at the Griquas he served as an assistant coach.
The Griquas will be led onto the park by the 8th-man, Ruan Steenkamp.
Saturday's central derby at the Toyota Stadium will kick off at 14:30.
Toyota Cheetahs - 15 Clayton Blommetjies, 14 Craig Barry, 13 David Brits, 12 Frans Steyn, 11 Enver Brandt, 10 Chris Smit, 9 Ruan Pienaar, 8 Mihlali Mosi, 7 Aidon Davis, 6 Gideon van der Merwe, 5 Victor Sekekete, 4 Rynier Bernardo, 3 Marne Coetzee, 2 Marnus van der Merwe, 1 Schalk Ferreira.
Replacements - 16 Chucky van der Westhuizen, 17 Alulutho Tshakweni, 18 Beertjie van Vuuren, 19 Sergio Moreira, 20 Andisa Ntsila, 21 Rewan Kruger, 22 Robert Ebersohn, 23 Malcolm Jaer.
Griquas - 15 Ashlon Davids, 14 Munier Hartzenberg, 13 Chris Hollis, 12 Rynhardt Jonker, 11 Luther Obi, 10 Zander du Plessis, 9 Stefan Ungerer, 8 Ruan Steenkamp, 7 Siba Qoma, 6 Niel Otto, 5 Derik Pretorius, 4 Mzwanele Zito, 3 Janu Botha, 2 Alandré van Rooyen, 1 Eddie Davids.
Replacements - 16 Janco Uys, 17 Kudzwai Dube, 18 Justin Forwood, 19 Johan Retief, 20 Michael Amiras, 21 Raegan Oranje, 22 Theo Boshoff, 23 Sango Xamlashe.
Morgan Piek/OFM Sport