Tennis
Ollie's daughter impresses at SA Nationals
─── MORGAN PIEK 08:17 Tue, 04 May 2021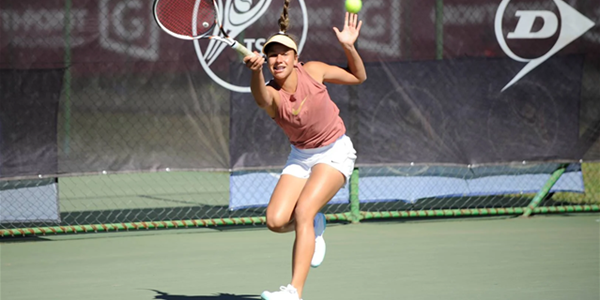 The daughter of the former Springbok and Free State tighthead prop, Ollie le Roux, made a big statement during the Junior Nationals tennis tournament which was hosted in Bloemfontein.
Donna le Roux, who was the second-seeded player in her age group, won the under-14 tournament with a 6-2, 6-0 victory over third seed Rune van Wyk at the Free State Tennis Stadium.
The event was the South African leg of WTA Future Stars series.
The girl's Under-14 and Under-16 singles winners at the premier junior event won an all-expenses-paid trip to Shenzhen in China to represent South Africa at the WTA Future Stars global finals.
Le Roux said that she had to fight during the course of the tournament and the trip to go and play in China excites her.
"This week was very tough, and I had to put up a fight to reach the final. It's never easy, so I had to do my best.
"I am super excited to be going to represent South Africa in the Under-14 event at the WTA Future Stars in China.
"I will work very hard and bring my A-game there," Le Roux added.
Singles
Final Results
Girls Open [3] Ine LAMPRECHT (GN) bt [5] Sarah MILLARD (GC) 6-3, 6-1
Girls Under-16 [3] Lilitha NDUNGANE (GE) bt [4] Kaitlyn RAMDUTH (KZN) 6-1, 6-1
Girls Under-14 [2] Donna LE ROUX (FS) bt [3] Rune VAN WYK 6-2, 6-0
Girls Under-12 [2] Roxy BREDENKAMP (WL) bt [1] Jahnie VAN ZYL (NW) 4-6, 6-3, 6-1
Boys Open [4] William ZULCH (WL) bt [1] Daniël WESSELS (GR) 6-4, 6-3
Boys Under-16 [3] Kyle ERWEE (GN) bt [1] Drikus DE JAGER (GR) 4-6, 6-2, 6-4
Boys Under-14 [3] Willem DE WAAL (WL) bt [13] Siyabonga JACA (KZN) 6-4, 6-4
Boys Under-12 [7] Guy LEVINER (GC) bt [2] Stefano ROUSSOS (GC) 6-3, 6-0
@MorganPiek OFM Sport