Tennis
Medvedev beats Djokovic for maiden Grand Slam title
─── MORGAN PIEK 07:20 Mon, 13 Sep 2021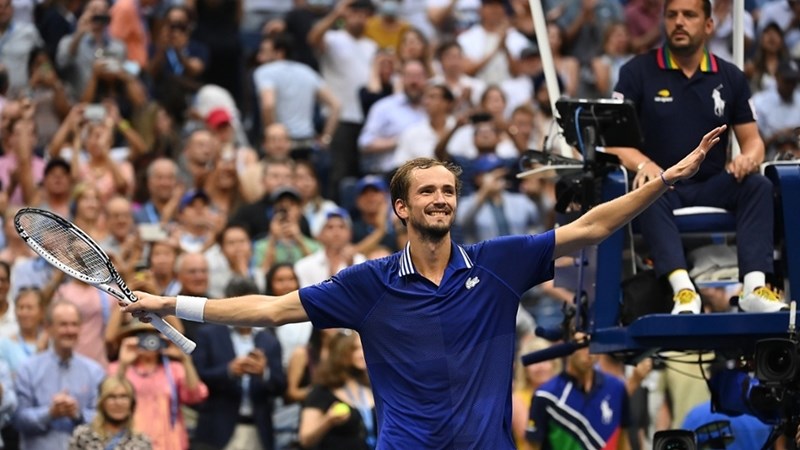 The 25-year-old Daniil Medvedev has won his first Grand Slam title after winning the US Open at Flushing Meadows in New York on Sunday.
The world number two from Russia, beat Novak Djokovic in straight-sets to claim the title.
Medvedev ended Djokovic's campaign for a calendar slam with a 6-4, 6-4 and 6-4 win.
Medvedev said that unlike the Australian Open final earlier in the year, he had a clear plan to win his maiden Grand Slam title.
"First of all, we always talk tactics before the match with my coach, the day before. Usually takes five, ten minutes, some small things. Probably where I'm going to serve, what I'm going to do during the points.
"When it's against Novak, it took like probably 30 minutes. Why? Because we played already, like, I don't know, maybe seven matches before this one, maybe even more. Every match was different just because he's so good that every match is different. He changes his tactics, he changes his approach.
"What was different before the Australian Open that I had, yeah, clear plan in my mind what I have to do in which moment. Of course, it would depend a lot on him because, again, sometimes you have to be aggressive, sometimes defensive. I had a clear plan which did seem to work.
"Was he at his best? Maybe not today. He had a lot of pressure. I had a lot of pressure, too, about the risk on the second serve, it was because of the confidence I had. I knew I cannot give him easy serves because that's what he likes. So that was the plan. Because of the confidence in a lot of tight moments, I managed to do it well."
In January, Djokovic, beat Medvedev 7-5, 6-2 and 6-2 in the final of the Australian Open.
On Saturday, Emma Raducanu defeated Leylah Fernandez in the final, 6–4, 6–3 to win the women's singles.
@MorganPiek OFM Sport