The Good Morning Breakfast
Win with Sun Windmill's Sweet 16
─── 08:07 Wed, 13 Oct 2021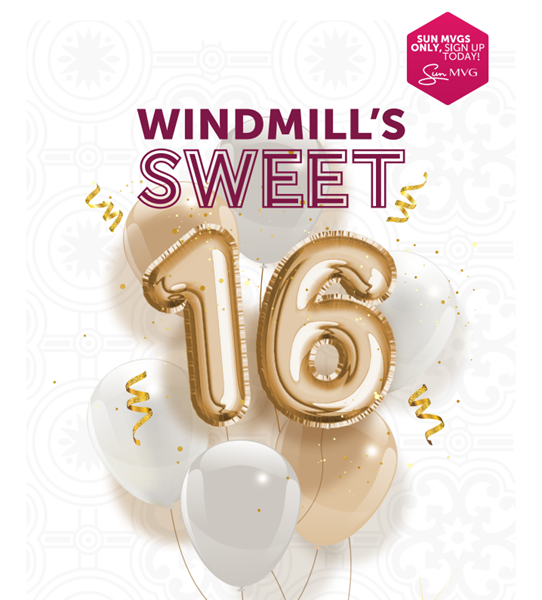 Sun Windmill Casino in Bloemfontein is celebrating turning sweet 16 by giving guests the chance to win their share of R160 000 in prizes and cash until 31 October 2021.
And, what's more, they're also giving you the chance to win your share of R16 000 on Good Morning Breakfast from 18 to 22 October 2021!
For a chance to spin the Sun Windmill Casino windmill in studio, to win anywhere between R1 000 and R5 000 in cash, you need to stay tuned to Good Morning Breakfast to hear what clue Shandor gives each morning about a 2005 'baby'. So many awesome things were 'born' in 2005, including, of course, Windmill Casino – home to the best fun to be had in Bloemfontein!
Here are a few of our other favourite 2005 'babies', which Shandor just might mention:
YOUTUBE video sharing platform
MR & MRS SMITH movie starring Brad Pitt and Angelina Jolie
SUGAR WE'RE GOING DOWN SWINGING song by Fall Out Boy
TWILIGHT book series
GUITAR HERO video game
Once you think you have the correct answer, Telegram 'Windmill' and your answer to 084 222 9497. If we phone you back, you get to spin the windmill and, easy as that, you win big bucks!
Remember data rates and Ts & Cs apply. No under 18s.
Sun International supports responsible gambling. Gambling for persons 18 years and older. Winners know when to stop. National responsible gambling toll-free counselling line 0800 006 008. Sun International casinos are licensed casinos.
Sun Windmill Casino strictly observes all Covid-19 health regulations.