Agri Hour
Part 2: Msc student sets sights on perfecting rhino milk recipe
─── 05:00 Mon, 11 Oct 2021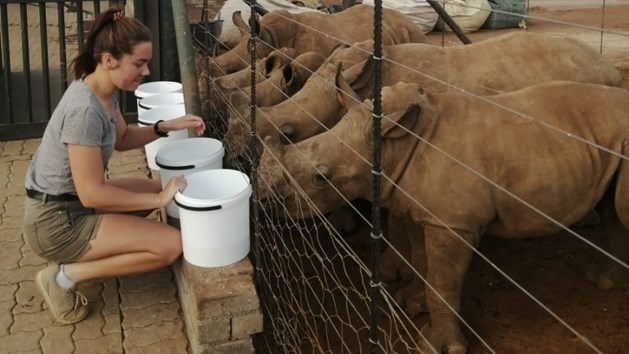 We delve into Rhino cow selection and the stresses related to milking rhino cows and the effect it may have on their calves.
Sien onderstaande PODCAST
The journey of MSc student at the Stellenbosch University in the Western Cape, Dakota Guy's research started out with a more generalised approach, which meant that her selection criteria for the rhino cows were largely dependent on the availability of the animals and not so much on the type of rhino cow. "Whatever cow we could get milk from we just used," says Guy.
Their main aim was to milk rhino cows during their lactation period, which according to Guy can be separated into three periods, namely the early, mid and late lactation periods. And the reason for this was so that her team could determine the composition of the three types of milk periods as that would allow them to analyse the nutritional components of the milk as it will correlate with the growth spurt of the calf.
READ: MSc student sets sights on perfecting rhino milk recipe (Part 1)
Guy reminisces on her very first time milking a rhino cow, explaining how intimidating the milking process was to her because of the size of the animals.
"They are very huge, I mean, even if they are lying down they almost tower over your head. So it takes quite a big team of people," she says.
Taking us through the darting process, Guy mentions that darting these enormous animals is a process on its own. She goes on to say that rhino cows cannot lie on their side but that they should instead be placed on their chest ensuring that their breathing is not obstructed while they are darted.
"So, you need some people that have to keep the rhino upright and then you need people that can actually pull the hind legs backwards, and then you need about two people to milk the cow itself," says Guy.
She notes that one can inject the cows with Oxytocin as it facilitates an easier flow of milk when milking the cows. Furthermore, Guy speaks about how time-efficient the milking process needs to be. "You get about 2-3 minutes to milk the cow before they have to wake her up again."
Guy concludes by inviting any rhino orphanages who would like to form part of her research to contact her. "We are always looking for anybody that might be interested to get involved. We have quite a few orphanages that have already shown interest and if there are a few more that can help out, it will always be great for us to try and fast-track this research," concludes Guy.
OFM News