Business
Government launches Social Employment Fund
─── 10:23 Thu, 25 Nov 2021
Sponsored
10:23 Thu, 25 Nov 2021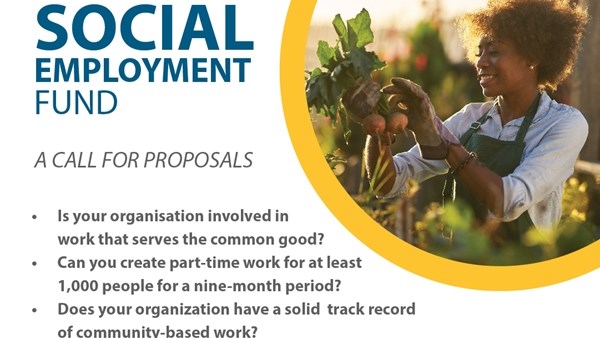 The newly launched fund is supported by the Presidential Employment Stimulus to create jobs and strengthen our economic recovery.
As part of the government's broader economic recovery agenda, the Presidential Employment Stimulus seeks to use direct public investment to support employment opportunities, counteracting job losses due to Covid-19, and creating an opportunity for growth and renewal.
The stimulus package now includes social employment, as part of its portfolio of interventions to create jobs and support livelihoods. This extension of the programme to include social employment recognizes the crucial role played by non-state actors in communities across the country in creating jobs and contributing to tackling our unemployment challenge.
The efforts to support social employment will be supported in part through the Social Employment Fund (SEF) that will be managed by the IDC.
The SEF will contract non-state actors to create and deliver part-time work that serves a common-good purpose. Such work will contribute to building the Social and Solidarity Economy – a vital but often under-recognized part of community-based economic activity and a fertile ground for local entrepreneurship. This builds on IDC's extensive experience in support of the Social and Solidarity Economy.
The Fund will support forms of work that create real social and environmental value, responsive to local needs, on terms that build the work experience and capabilities of participants as well as local agencies and actors. In the process, this supports and augments the role of government, creating opportunities for a 'whole of society' approach to addressing local challenges. A proactive and phased approach, which will encompass marketing and advertising, stakeholder engagement (where beneficiaries are concerned), PR, as well as digital communications will be adopted.
HOW TO APPLY: To apply for the Social Employment Fund, email: SEFapplications@idc.co.za no later than 8 December 2021 at 17:00.
Visit www.idc.co.za/sef to access the application form and get detailed information on the fund's Terms and Conditions. Call 011 269 3466 for any further queries.
OFM Business Hour's Olebogeng Motse spoke to Bhavanesh Parbhoo, project manager at the Social Employment Fund, to find out more. Listen here: