CentralSA
Goedemoed prison official acquitted
─── LUCKY NKUYANE 13:04 Wed, 31 Mar 2021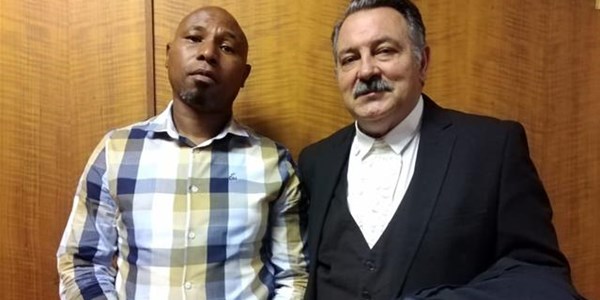 The Goedemoed prison official who was accused of plotting the murder of his female colleague, Nomsa Stuurman, in 2019 has been acquitted and discharged of all charges against him.
Judge Pitso Molitsoane on Wednesday, in the Free State High Court sitting in Bloemfontein, rejected state led-evidence that Mojalefa Letele had promised to pay R100 000, amongst others, toward the procurement of Stuurman's murder.
Handing down his order, Judge Molitsoane says the testimony given by Jongikhaya Samsam, who is convicted of brutally killing Stuurman and raping her colleague in 2019, falsely intended to incriminate Letele in the murder plot. He says despite allegations made by Samsam about the plot or contract to kill Stuurman, Samsam's story lacked details of Letele's participation in the murder plot.
Molitsoane then granted the order to acquit Letele of murder and conspiracy to commit murder and said no reasonable court would convict Letele on the evidence presented by the state.

Molitsoane bemoaned the lies and contradictions from inmates, including Samsam, who testified on behalf of the state.

He said it was clear that Samsam murdered Stuurman for his own selfish reasons. It's said that Samsam had it in his own mind that Stuurman disrespected and undermined him and therefore he was coiled to take her out. This after he allegedly made this confession to one of the inmates that he wanted to stab.
Samsam's version that Letele had promised him a good life in prison after the murder of Stuurman was labelled as inconceivable and improbable. Judge Molitsoane also ruled it as improbable and inconceivable that Letele promised Samsam a legal representation in court.

Samsam, in his testimony in 2020, detailed how Letele placed a hammer for him on top of a steel cabinet in the corridors. He alleged that Letele signalled to him by nodding where he had placed the murder weapon to carry out the heinous crime against Stuurman. It was further alleged that one of the inmates - only known as Thabo, who was a state witness - saw the hammer and took it to a drawer of a steel cabinet in a nearby office.

Samsam was slapped with double life sentences by the High Court in October 2019 for killing Stuurman and for raping and holding her colleague hostage.

Letele was out on R10 000 bail after he was arrested by the police on Thursday 6 February 2020 on a charge of murder. Letele's arrest followed a joint investigation by the South African Police Services (SAPS) and the Department of Correctional Services (DSC).
OFM News