CentralSA
#GBV: State opposes bail for SABC presenter's estranged husband
─── LUCKY NKUYANE 16:34 Thu, 05 Aug 2021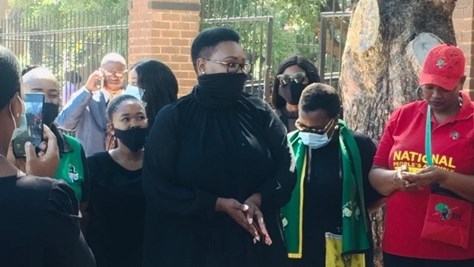 The state, in the case against the estranged husband of the SABC presenter Dimakatso Folotsi-Ratselane, says it is not in the best interest of justice to release the suspect on bail.
State prosecutor, Sello Matlhoko, led evidence on Thursday during the bail application of McKenzie Ratselane, who is applying for bail.
The state, through an investigating officer who is testifying, says McKenzie has not been truthful on the events of his circumstances. The state says McKenzie has strong family ties in the neighbouring country of Lesotho and Botswana and refuted McKenzie's claims that he was not running from the law.
During his testimony, the investigator said if McKenzie was not running from the law, he should have come forward when he learned that the police were on his trail. McKenzie is still in custody for kidnapping, attempted murder and assault to do grievous bodily harm, amongst others.
The investigator in the case says the state has a strong case against the suspect based on the evidence gathered so far.
The investigator has told the court that Folotsi-Raletsane once indicated to him that the suspect attached her using a heater to assault her and she did sustain injuries but never opened a criminal case against him. Following the attack on Folotsi- Raletsane by McKenzie in February, the victim is said to have suffered stab wounds on her body, including her chest, face and her tongue, amongst others. He has described McKenzie as an individual with anger issues.
McKenzie was arrested in February at an informal settlement in Ennerdale in Gauteng after being on the run for six days.
He will stand trial on 7 and 8 September 2021 in the Regional Court. It's alleged that McKenzie stabbed his wife Folotsi-Raletsane in February in Bloemfontein, where she was later found lying in a pool of blood with multiple stab wounds around the Caleb Motshabi informal settlement.
The investigator testified McKenzie allegedly called his wife multiple times from prison, asking her to drop the case against him and also asked for money to pay legal fees, amongst others.
The bail application continues in court on Friday.
Meanwhile, the family of Dimakatso are present in court to show support for their sister and beloved one. The EFF is also outside the court with placards to picket against the bail application of Mackenzie.
OFM News