CentralSA
UFS opposes bail after Qwaqwa campus violence - VIDEO
─── OLEBOGENG MOTSE 12:44 Tue, 15 Mar 2022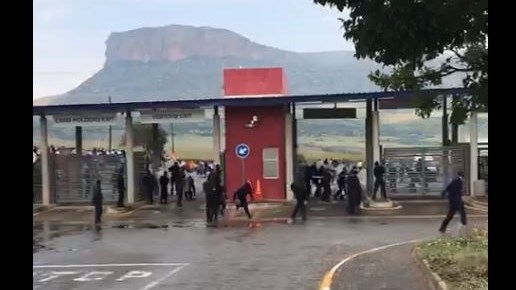 The University of the Free State (UFS) is taking a zero tolerance approach to student-related violence on its campus.
The UFS' Vice-Chancellor and Rector, Prof. Francis Petersen, said on Tuesday that the institution will be opposing bail for two of its students who were arrested by police following violence that broke out at the Eastern Free State campus on Monday. The violence centred on the payment of allowances from the National Student Financial Aid Scheme (NSFAS). Petersen is quite concerned at the culture of violence that appears to be in existence at South Africa's institutions of higher learning.
"We can't allow that our university becomes a platform for criminal acts. That is not good for the image of the university as such, but more so it can create a culture of entitlement. And if you don't get what you believe you're entitled to, you commit criminal acts," says Petersen sternly.
According to the institution, on Monday a volatile group of students blocked the entrance gate to the Qwaqwa campus, proceeding to throw stones at private security guards. After overwhelming security, the disgruntled group stormed the campus and went on to vandalise and loot property. There are staff and students who reported sustaining injuries from the incident.
The group is unhappy that NSFAS accommodation allowances are no longer being paid directly to students, but rather to their stated landlords.
The UFS changed the system following a 2021 fraud and forgery scandal in which an unspecified number of students submitted forged rental accommodation contracts. Petersen says the students, who were then receiving their accommodation funds directly, inflated the rental amounts to enable themselves to receive extra money from the university. Not only is a criminal process underway, but so are internal disciplinary processes.
Read more: UFS students in hot water
More arrests are imminent regarding Monday's violence. In the meantime, classes at the Qwaqwa campus continue online. The campus had just made a full return to face-to-face classes when the incident occurred.