According to BusinessTech, Minister of police, Bheki Cele has warned that there is a possibility of an escalation in gender-based violence during this period, adding that the police's Family Violence, Child Protection and Sexual Offences unit has been beefed up to assist.
For normal crimes, the South African Police Service's 10111 line will continue to be operational, with the South African National Defence Force supporting. You can also report contraventions of the lockdown regulations to this number.
The Department of Trade and Industry, meanwhile, has ramped up investigations into stores that are hiking prices to take advantage of consumers who need essential goods.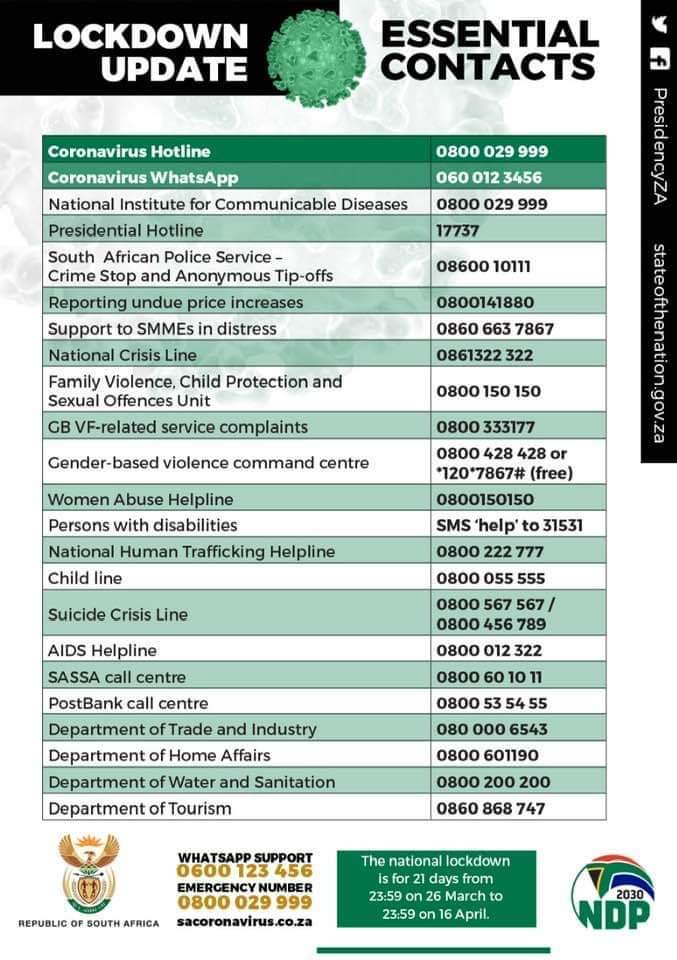 Electricity supply, water and sanitation are considered essential services, so your local plumber and electrician should be able to see to any emergencies that happen during the lockdown, provided the normal restrictions (no contact and a safe distance) are adhered to, and they have listed themselves as part of the essential services.
Other emergency numbers, for fire fighting and ambulances (10177) also still apply.
IPID has made several hotlines available to report any abuse by police officers during the lockdown.
•Free State: 063 225 6081
•Gauteng: 076 455 5718
•Northern Cape: 064 624 8203
•North West: 078 163 6874
SARS will have staff available at the SARS Contact Centre and you can engage with them on 0800 00 7277.
SARS has also set up specific email addresses for various queries.