News
The ABC's of garlic farming – Part2
─── 09:56 Tue, 10 May 2022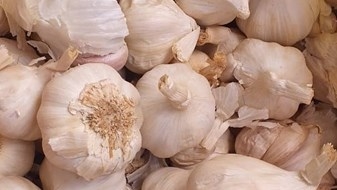 Garlic farming has for many years been a regularised form of farming in some African countries because of its economic reward, export rate, and various other benefits.
In the second part of this sitdown, OFM News' Lee Simmons speaks to garlic farmer, Gershom Chimutu, about garlic farming.
He says that the harvesting process of garlic is done on the fifth month of the full six month planting process. Chimutu says: "When it has reached the harvest period, the leaves are dry and now your garlic is ready for harvest."
He explains that shovels are then used to carefully dig up the garlic ensuring that the neck of garlic has not dried up completely. "The neck of the garlic has to be dried when it's in the shade, "adds Chimutu. Once the harvesting process is complete, the garlic has to be hung in a shed for the drying process to commence, explains Chimutu. Another drying option is to put the garlic in the sun for a few days, however, when sun-drying the garlic it is important to note that the leaves of the garlic should face down partially covering the garlic bulb so that direct sunlight is limited.
He goes on to say that as an exporter of garlic to countries such as South Africa, he faced many transportation challenges during Covid-19. Chimutu says that garlic is transported in trucks that have cooling equipment installed in them and that often these transporting trucks would either not be allowed to travel or would not have all the necessary equipment to keep the garlic fresh at the necessary temperature. Often half of the batch would rot because of the delays at borders, which meant that he would be required to resend another batch at his own cost which posed a major challenge.
Irrespective of the above, Chimutu adds that his profit margins increased as garlic was in demand during the pandemic and that he was able to convince many tobacco farmers in his area to turn to garlic farming.
OFM News/Lee Simmons