Rugby
Pumas focus on discipline for the Currie Cup final
─── MORGAN PIEK 08:07 Fri, 24 Jun 2022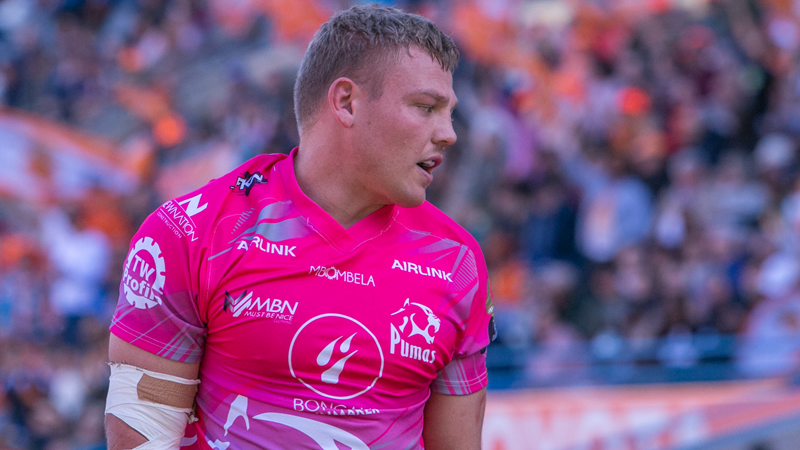 The Pumas have been focusing on their discipline ahead of Saturday's Currie Cup final against the Griquas in Kimberley.
The team from the Lowveld has let themselves down on occasion with their discipline throughout the season, but they also realise that penalties win or lose finals.
The team that famously wears two different jerseys in a match are in the final for the first time ever, while the Griquas are targeting a fourth Currie Cup title.
The Cheetahs-bound Pumas flanker, Daniel Maartens, told OFM Sport that they can ill-afford to concede penalties.
"We've actually worked hard on our discipline this week and I think that it's going to be a big factor in this game," said the former Varsity Cup-winning Shimla.
"If we can minimize our mistakes and keep out discipline in check, we will be fine.
"I think the team making least mistakes will win the final. The best disciplined team is going to take the Currie Cup title."
Maartens have previously plied his trade at the Cheetahs and he will be returning to the Free State along with the winger, Tapiwa Mafura, later in the year.
Saturday's final in Kimberley kicks off at 15:00.
Griquas - 15 George Whitehead, 14 Munier Hartzenberg, 13 Sango Xamlashe (captain), 12 Rynhardt Jonker, 11 Luther Obi, 10 Zander du Plessis, 9 Stefan Ungerer, 8 Siba Qoma, 7 Hanru Sirgel, 6 Werner Gouws, 5 Derik Pretorius, 4 Cameron Lindsay, 3 Janu Botha, 2 Janco Uys, 1 Kudzwai Dude.
Replacements - 16 Simon Westraadt, 17 Eddie Davids, 18 Andries Schutte, 19 Johan Retief, 20 Michael Amiras, 21 Johan Mulder, 22 Fiela Boshoff, 23 Chris Hollis.
Pumas - 15 Devon Williams, 14 Tapiwa Mafura, 13 Sebastian de Klerk, 12 Eddie Fouché, 11 Jade Stighling, 10 Tinus de Beer, 9 Chriswell September, 8 André Fouché, 7 Willie Engelbrecht (captain), 6 Daniel Maartens, 5 Shane Kirkwood, 4 Deon Slabbert, 3 IG Prinsloo, 2 Eduan Swart, 1 Corné Fourie.
Replacements - 16 Llewellyn Classen, 17 Dewald Maritz, 18 Simon Raw, 19 Kwanda Dimaza, 20 Francois Kleynhans, 21 Giovan Snyman, 22 Ali Mgijima, 23 Alwayno Visagie.
Morgan Piek OFM Sport