Agri Hour
#FSfloods: Department to assist all farmers in need
─── ELSABÉ RICHARD 05:30 Thu, 21 Jan 2021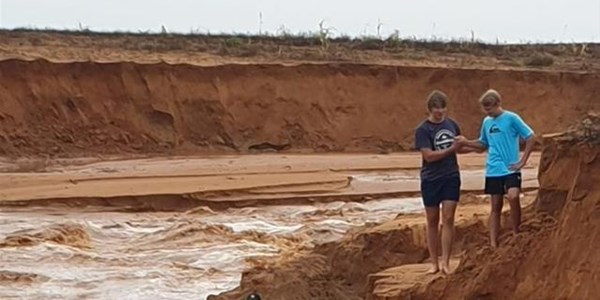 All farmers, small or commercial, will be receiving assistance from the Free State Department of Agriculture.
The provincial department's MEC, William Bulwane, stated this in response to a question on Tuesday when he announced the department's interventions following flood damage in the province.
Here is Bulwane…
See PODCAST below
Bulwane says that a team from the department has been sent out to all affected farmers to identify the extent of damage as well as to establish whether farmers have insurance and what they have insured on the farm.
He says this will help the department to identify the areas in which the farmer needs help.
However, Bulwane says the department has not set aside money for disasters. "A disaster is something that comes and strike at any given time, but as a responsible government we need to respond to the challenges faced by the farmers irrespective of what colour they are," says Bulwane.
He explains that the government is obliged to help if the need arises, irrespective of whether it has run out of financial resources.
Bulwane further adds that the floods have resulted in various provincial departments, such as the Department of Police, Roads and Transport, amongst others, to work together to strengthen resources to remedy the situation.
"The rainfall that flooded farms started on 31 December 2020 to 13 January 2021 and farmers recorded 140mm of rain within a very short space of time. The affected areas are as follows: Bultfontein, Hoopstad, Parys, Vredefort, Viljoenskroon, Heilbron, Bothaville, Wesselsbron, Kroonstad, Steynsrus, Bethullie, Reitz, Lindley, Bethlehem, Fouriesburg, Slabberts, some areas in Qwaqwa, Paul Roux, Clarens, Ficksburg, Marquard, Senekal, Kestell and Harrismith," he explained.
The MEC also called upon non-profit organisations (NGOs) and established agricultural unions with the capacity to lend a helping hand to step in and help.
Furthermore, the department warned that the continuous rainfall may lead to an outbreak of the Rift Valley fever disease. These outbreaks are associated with heavy rainfall during the late summer and it can only be prevented through vaccinating livestock such as cattle, sheep, and goats.
OFM News