At Lunch
Real Estate Talk with Brocor, Potchefstroom: Offer to Purchase and Registration
─── 12:14 Thu, 11 Mar 2021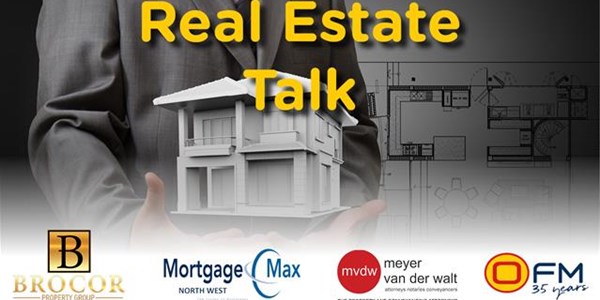 AJ Du Plessis of Brocor Property Group, Potchefstroom talks about how long it usually takes from the day the purchaser signs the offer to the date of registration.
Real Estate Talk is made possible by Brocor Property Group - your property specialist in Potchefstroom. In collaboration with Meyer and Van der Walt Attorneys and Mortgage Max Northwest. Brocor – your partner in property.
Transcript of talk:
Gerben: I'm speaking to AJ Du Plessis of Brocor Property Group, Potchefstroom. Last week we covered what happens after a purchaser puts in an offer on a property, the seller accepts it and the home loan application process is finalised. What now, can the purchasers get the keys and move in?
AJ: Once the suspensive condition of the home loan grant has been achieved or alternatively if it's a cash purchase, and the guarantees have been delivered, the transferring attorneys and if applicable bond registration attorneys and bond cancellation attorneys can begin with the registration process.
If the seller still has a bond registered on the property, the bond cancellation attorneys need to cancel the existing bond.
The transferring attorneys need to facilitate the transfer of the property from the sellers' names onto the purchasers' names.
And lastly if the offer was subject to a bond grant, the bond registration attorneys need to register the new bond over the property!
Once all three attorneys have completed their work and all necessary documents are in place, all three attorneys will send their documents to the deeds office where after a couple of days, registration will take place and the property will officially be registered onto the purchaser's name.
Gerben: So how long does it usually take from the day the purchaser signed the offer to the date of registration?
AJ: It varies from transaction to transaction, but usually anything between 2 to 5 months.
Gerben: AJ, what if all suspensive conditions have been met and the purchasers would like to move in to the property before date of registration of transfer. May they?
AJ: Yes, if the seller agrees, the purchaser's may take early occupation and pay the sellers occupational rent until date of registration which gets worked out pro-rata.
Gerben: Lastely, when can the purchaser's get the title deeds on their new property?
AJ: If it's a cash purchase, soon after registration. If it was subject to a bond, the bank will keep it, after which, once the bond has been completely paid off and settled, the purchaser can collect it from the relevant financial institution.