CentralSA
WATCH: Olifantshoek protestors loot beer truck, set it alight
─── PULANE CHOANE 11:39 Wed, 06 Feb 2019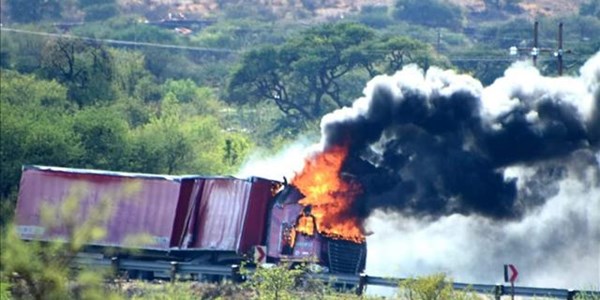 A South African Breweries truck has been looted and set alight by angry protestors in Olifantshoek, which is in the Northern Cape.
This comes after the community embarked on protest action on Tuesday, claiming that they have not received any water from the Gamagara Local Municipality. OFM News had earlier reported that over 300 locals took part in the protest and barricaded the N14 road with rocks and tyres. The looting and torching of the said truck took place earlier this morning and Kock said that police were at the N14 road where there was protest action reported when another group of protestors came and committed this crime.
"Police were summoned to the scene and while police were at the N14 road, another group of protestors actually set a truck alight after looting the beer from the truck. The truck driver escaped with no injuries and police are investigating a case of malicious damage to property and no arrests have yet been made," Kock said.
Meanwhile, the Gamagara Local Municipality is yet to respond to a set of questions OFM News sent on Tuesday. Olifantshoek forms part of three places in Central South Africa where protest action was reported this past week. Bloemfontein's Phase 6 and Freedom Square settlements also had reports of violent protests yesterday, with police spokesperson in the Free State, Sinah Mpakane, reporting that ten people were arrested for public violence on Tuesday and Wednesday from protests that were in Phase 6. Political analyst at the University of the Free State, Dr Sethulego Matebesi, said with the general elections coming up, people should be prepared for more protests throughout the year, as this is a common trend. Backing up these observations is MunicipalIQ, a municipal data and intelligence company, which in a report issued last month said that 2018 recorded a peak level of service delivery protests, reporting 24% more protests than in 2014, which was the last election year.
Managing Director at the firm, Kevin Allan, said it remains to be seen whether or not the 2019 elections will spur on protests to an even higher level. Overall, a total of 237 service delivery protests were recorded by Municipal IQ last year, with the most protests recorded in the Eastern Cape, then the Western Cape and finally, Gauteng. The Free State led Central South Africa as it had the most service delivery protests in the region, which accounted for 10% of the overall figure. The numbers in the Northern Cape and North West provinces, on the other hand, were identical, with both provinces accounting for only 8% of the total figures.
OFM News