CentralSA
Flash floods implode NC road
─── 17:24 Wed, 03 Feb 2021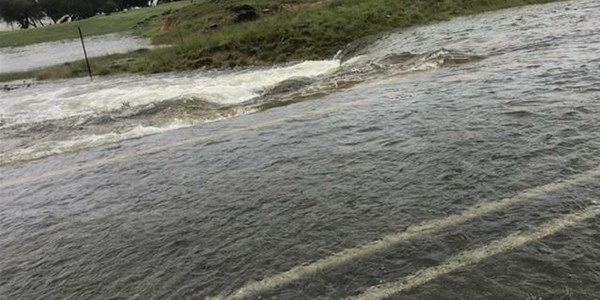 Heavy flash floods in the Northern Cape resulted in the disintegration of the N14 road 42km outside Kuruman, causing an implosion of a culvert beneath the road.
Sanral spokesperson, Melany Kühn, says that recent rainfalls and flooded roadways resulted in the collapse of the culvert on the road towards Vryburg in the North West. Stop-and-go systems have been implemented to accommodate traffic, but the road remains in an unusable condition. She advises road users to find alternative routes. Kühn adds that engineers have been deployed to the site to inspect the damage.
Meanwhile, Afriforum spokesperson Gerhard Niewoudt said in a statement that the flow of stormwater had been obstructed causing a rapid build-up of water that had no drainage system to flow through. Niewoudt adds that this resulted in large streams of water building up in many households, thus flooding the homes of community members.

"Road users travelling between Kimberley and Upington, are advised to avoid the N14, N8 and R31, and to rather take the N12 from Kimberley, linking up with the N10 just before Britstown and then travel via the N10 to Upington," says Kühn.

She adds that repairs will commence once an inspection of the road damage caused has been done.

In addition, the weather continually impacts the conditions of the road with further heavy rains expected throughout the weekend ahead, states Kühn. On behalf of Randall Cable, SANRAL's Western Cape Manager, Kühn says that they appeal to all road users to be vigilant and remain aware of their surroundings following these adverse weather conditions.


OFM News/Shirndré-Lee Simmons