CentralSA
#FSSopa: Province 'stand to lose R11 billion'
─── LUCKY NKUYANE 12:44 Tue, 02 Mar 2021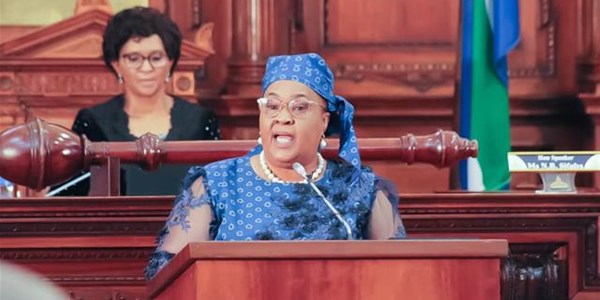 The Free State premier, Sisi Ntombela, has told Members of the Provincial Legislature during her State of the Province Address that in the initial budget estimations the province stands to lose more than R11 billion in the next three financial years.
This, as she told MPLs on Tuesday that attacking corruption in the province remains high on their development agenda. The Provincial Government departments and municipalities across the province have been embroiled in the alleged looting of state funds, where amongst others irregular tenders have been awarded to either undeserving companies or those who are close to friends and families of high-profile politicians. She says they welcome the initial report of the Special Investigation Unit (SIU) on COVID-19 related procurement and remain committed to the investigation processes. Ntombela adds that no acts of corruption will be tolerated in municipalities across the province.
We need to be transparent, effective and accountable to create trust in government. This we can achieve only when we are serious about the fight against corruption. We are cooperating with law enforcement agencies in their investigations," she adds.
OFM News previously reported that the SIU reported that in August 2020 it received several complaints implicating the Free State Treasury in the irregular procurement of personal protective equipment from six service providers.
According to the SIU's presentation to the Standing Committee on Public Accounts (SCOPA), these contracts amount to over R16,6 million collectively.
"This year the audit outcomes of departments show significant improvements. Of the twelve departments, six received qualified audit opinions with one outstanding. We congratulate all those departments that received unqualified audit opinions and the Provincial Treasury for receiving a clean audit.
At the municipal level, of the twenty-three municipalities, twelve received qualified audit opinions with four disclaimers and three had outstanding financial statements. Four municipalities received unqualified audit opinions," Ntombela further adds. The Provincial Treasury has been tasked to monitor and support provincial departments, entities and municipalities to improve sustainable and accountable fiscal governance. Ntombela says the "support will include the development of funded budgets, which are aligned to performance plans, including audit and risk management plans and that they need to establish an Auditing Task Team to monitor and assist municipalities".
OFM News