CentralSA
Slange net meer aktief in herfs, sê kenner
─── 15:50 Thu, 22 Apr 2021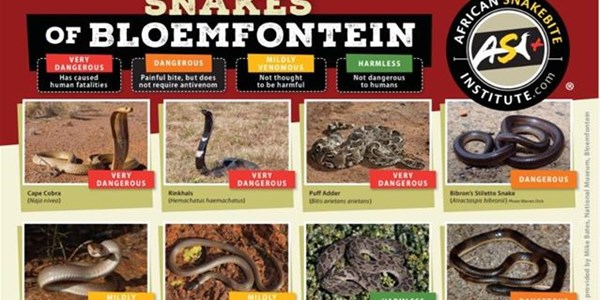 'n Slangkenner wil mense gerusstel deur te verseker daar is nie nou meer slange as in vorige jare nie, maar dat 'n mens elke herfs 'n hoogtepunt in slangaktiwiteite kan verwag, soos wat hulle vir die winter begin voorberei.
Vrystaatse inwoners het hulle bekommernisse en ervarings op sosiale media gedeel nadat daar berig is oor 'n moontlike toename in pofadder-waarnemings en -bytgevalle.
In 'n onderhoud met OFM-nuus sê die hoof van die African Snakebite Institute, Johan Marais, dat hy die bohaai rondom slangaktiwiteite, veral in Bloemfontein, opgetel het. Die verhoogde slangaktiwiteite in herfs lei onvermydelik tot verhoogde konflik met honde wat slange van nature sal aanval.
Marais sê verder as 'n hond gebyt word deur 'n pofadder, moet 'n veearts hulle sien. Mense wat gebyt is moet so gou as moontlik na 'n hospitaal gaan om die omvang van die skade te beperk.
"Daar is baie min sterftes onder mense. Onder honde, ja, want hulle is 'n baie kleiner spesie. Hoe langer jy neem om by 'n hospitaal uit te kom hoe erger sal die swelling raak en hoe erger kan die weefsel later wees. Daarom doen ons 'n beroep op pasiënte om so gou as moontlik by 'n hospitaal uit te kom. In die geval waar 'n pasiënt teengif nodig het, hoe vinniger die teengif kan gekry word hoe vinniger gaan die skade geneutraliseer word. 'n Pofadderbyt onder mense is glad nie algemeen in die Vrystaat nie en sterftes is byna ongehoord. Ek weet nie van enige pofaddersterftes in die provinsie in die afgelope jaar of twee nie," sê Marais.
"Wanneer mense 'n slang teëkom, kan hulle dit van 'n veilige afstand (5 m of meer) dophou en 'n slangvanger bel. As mense 'n afstand van vyf meter of meer kan behou, is hulle veilig," voeg hy by. Hy sê die enigste oplossing vir 'n pofadderbyt is teengif.
OFM-nuus/Blaine Jones