CentralSA
#MangaungShutdown: Parents of teenage boy speak after his killing - VIDEO
─── CATHY DLODLO 20:19 Mon, 17 May 2021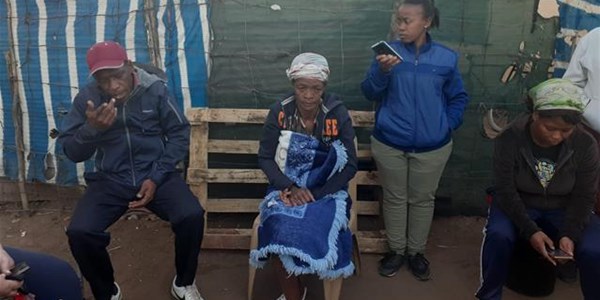 The mother of the 14-year-old teenager, Liam Siegal, who was killed during protest action in Heidedal, Bloemfontein, said she could not get herself to rush to her boy when she received the news of him being shot.
Rosaline Siegal said she instead asked people to go and call his dad, Johannes Pieterse, to rush to his side.
The parents said in an interview with OFM News late on Monday that they are still in shock over their son's death. The mother said she is left with so many unanswered questions and is not sure how she is going to get herself to identify his body. Liam was a Grade 7 learner at the Heide Primary School in Heidedal.
Pieterse said when people told him that his son was shot he just started running and along the road people gave him directions. "When I got there people lift up the cover they used to put over his body and I could see my son," he explained. He said he could see his son had a wound in his chest.
Siegal said she then asked her second son and younger brother what happened. "They picked him up and tried to run with him to Pelonomi Hospital, just up the road. The police, however, then allegedly started shooting at them with rubber bullets. "They put him down and my brother threw himself over Liam to protect him from the rubber bullets. It was then when my son passed away," she explained.
Siegal said she never went to the scene of the shooting. "I am too weak. I cannot deal with this," she said. The family is expected to go to the morgue to identify Liam's body on Tuesday.
This is while the 57-year-old security guard, who was arrested in connection with Liam's death, is expected to appear in the Bloemfontein Magistrate's Court. Police spokesperson, Motantsi Makhele, says the security guard is alleged to have fired a shot at a group of people and in the process, the 14-year-old boy was hit and he died meters away.
The Free State Department of Education sent out a message of condolences to the Siegal family on their social media platforms on Monday.
The protest action that led to the shutdown of businesses in Bloemfontein and the blocking of roads is expected to continue on Tuesday. Videos and pictures of blocked roads and burning tyres have been making the rounds on social media. Some residents said in interviews with OFM News that the police shot rubber bullets and teargas at protestors.
According to messages that have been shared on WhatsApp, the protest action is expected to spread to Thaba Nchu and Botshabelo. Residents are protesting about the lack of service delivery, the high unemployment and the lack of land or serviced sites.
At least seven residents have been arrested by the police for public violence.
OFM News