CentralSA
Protest action set to continue #MangaungShutdown
─── CATHY DLODLO 05:09 Tue, 18 May 2021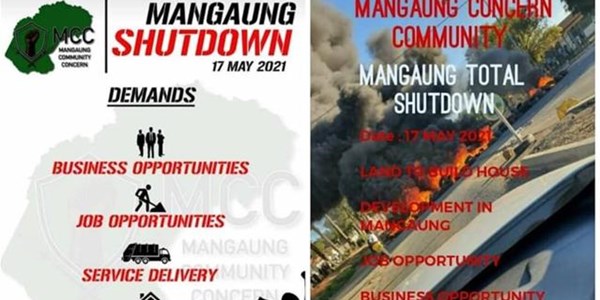 The protest action that led to the shutdown of businesses in Bloemfontein and the blocking of roads is expected to continue today.
Videos and pictures of blocked roads and burning tyres have been making the rounds on social media. Some residents said in interviews with OFM News that the police shot rubber bullets and teargas at protestors.
According to messages that have been shared on WhatsApp, the protest action is expected to spread to Thaba Nchu and Botshabelo today.
Meanwhile a 57-year-old security guard who was arrested yesterday in connection with the shooting and the killing of a teenage boy from Heidedal, Bloemfontein is expected to appear in the Bloemfontein Magistrate Court today.
Police spokesperson, Motantsi Makhele, says the security guard is alleged to have fired a shot at a group of people and in the process, a 14-year-old boy was hit and he died meters away. Residents are protesting about the lack of service delivery, the high unemployment and the lack of land or serviced sites.
At least seven residents have been arrested by the police for public violence.
OFM News