CentralSA
FS Chief Whip weighs in on #MangaungShutdown
─── 14:46 Tue, 18 May 2021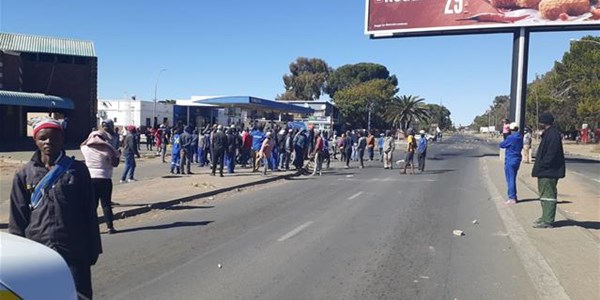 The Chief Whip of the Free State Legislature, Vusi Tshabalala, commented on the Mangaung Shutdown, stating that he is extremely unhappy about the protests that destroyed various areas in Bloemfontein in the Free State.
Tshabalala says the next plausible step would be for the legislative body to call the MEC, the Premier, as well as the leadership of the Mangaung Municipality to address this matter urgently. "We are not happy at all. And we are so disappointed that these matters were raised at the level of the committee and the officials could not do what we also advise, as a committee. What is very disappointing, is that people nowadays don't respect the rule of law, they don't respect the constitution of this country."
All of this while protesters took to the streets of Bloemfontein on Monday, enraged at the municipality's inability to complete public projects.
Furthermore, police intervention allegedly led to the injuries of many protesters who suffered because of tear gas and rubber bullets fired at them.
"We always want to refrain from having to berate those who should be representing us but, as a Legislature, we are compelled to act aggressively towards the actions of the Mangaung municipal members," says Tshabalala.
"The Mangaung Municipality is a very critical community that really needs to stop their shenanigans where people do as they wish.They will not respect the rule of law and they will not respect the policies. They will just take the money and put it anywhere they want without recognising the policies or pieces of legislation we have."
Ultimately, the Legislature is not happy and will soon release a statement in which they list their concerns with the ongoing #MangaungShutdown strikes, Tshabalala added.
OFM News/Lee Simmons