CentralSA
SANDF joins SAPS in Bloemfontein for patrols
─── LUCKY NKUYANE 15:26 Wed, 14 Jul 2021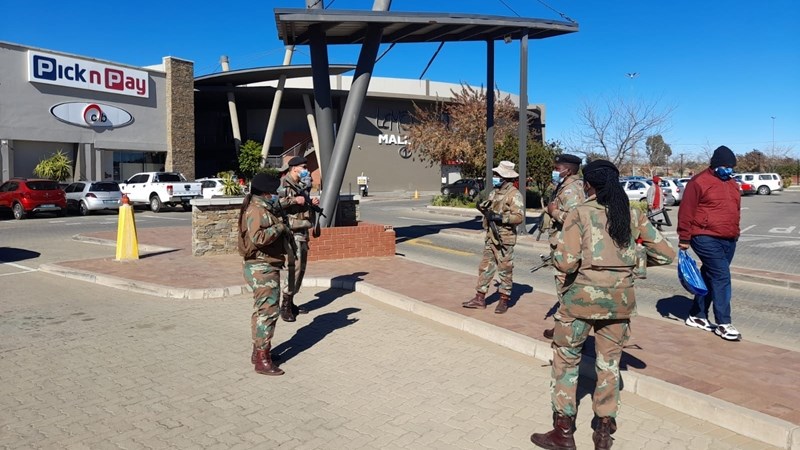 Members of the South African security cluster, including the South African Police Services (SAPS) and the South African National Defence Force (SANDF), are currently patrolling shopping centres in Bloemfontein in the Free State.
The SAPS confirmed the presence of the military men and women at Mangaung Metro shopping centres and malls, amidst the looting and damaging of both public and private businesses in other parts of the country.
On Twitter, the SAPS say this is to proactively secure strategic points and infrastructure in the city and entire province.
Looting engulfed parts of KwaZulu-Natal and Gauteng this week following the imprisonment of former President Jacob Zuma. Meanwhile, the men and women in blue are also conducting patrols on horseback at Village Mall in Hartbeespoort in the North West. The Central South African provinces have thus denounced and condemned the looting in the strongest terms possible.
OFM News previously reported that law enforcement officers are also patrolling identified areas under threat in the Northern Cape following the looting incident in other parts of the country.
Police spokesperson, Mathapelo Peters, said this after reports of two incidents in the Northern Cape, in Galeshewe in Kimberley, where one person has been arrested. Peters in a statement said the total number of people arrested over the looting and destruction of property in KwaZulu-Natal and Gauteng has now risen to 1 234 while fatalities are at 72.
"With the recent deployment of the Defence Force members and the augmentation of law enforcement officers by the recalling of SAPS members from leave and rest days, more boots have been on the ground to police the rampant elements of criminality perpetrated by the looting of businesses and destruction of property. The number of arrests has risen to 1 234 (KZN 549 and GP 683)," Peters said.
OFM News