CentralSA
#BreakingNews: Municipal building seized in #MangaungCopChaos
─── 09:36 Wed, 06 Oct 2021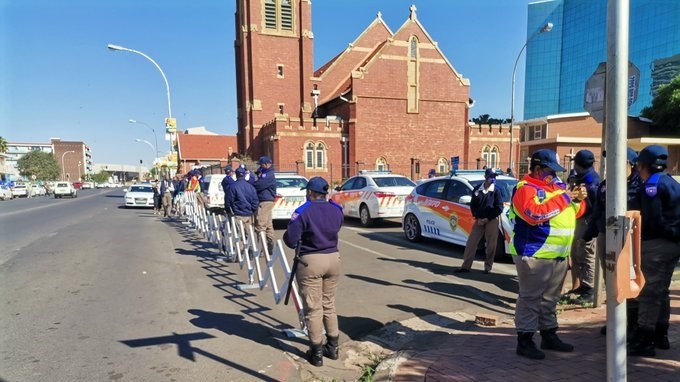 Employees of the Mangaung Metropolitan Municipality turned up for work on Wednesday, only to find themselves locked out of the Bram Fischer Building in Bloemfontein.
Members of the metro's police department, yet to be launched, have barricaded access points into the Mangaung's headquarters, locking out employees, security guards, councillors and the public from the building.
One of the affected individuals is Mangaung DA Councillor Mokgadi Kganakga, who tells OFM News that she cannot enter the building to access her computer due to the chaos, which she alleges is over appointment letters.
Mangaung Metro spokesperson, Qondile Khedama, has declined to comment on the situation, adding that he will do so after the acting Municipal Manager, Sello More, has addressed the officials on their issues. More arrived not too long ago and some of the officials promptly dispersed, leaving a few to man the barricades.
The Mangaung Metropolitan Municipality last week announced that their planned launch of its dedicated police department has been deferred. The launch was meant to take place in a glitzy ceremony held at the Free State stadium in Bloemfontein on Thursday 30 September, but has been called off at the eleventh hour following mounting pressure from the Mangaung Service Delivery Forum (MSDF).
This is a developing story.
READ MORE: Mangaung confirms postponement of metro police launch
OFM News/Olebogeng Motse, Kekeletso Mosebetsi and Lee Simmons