CentralSA
Four injured in school trip accident - VIDEO
─── LUCKY NKUYANE 09:11 Thu, 14 Oct 2021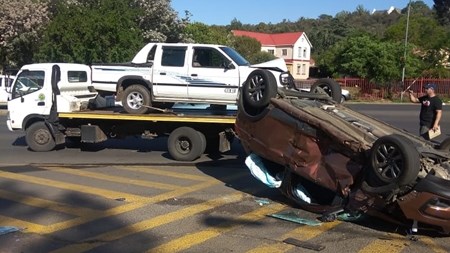 At least four people, including school kids, survived an accident when a light motor vehicle collided with an SUV bakkie in Milner Road, leading to Bayswater in Bloemfontein in the Free State.
It's understood that three patients, including school kids and a female adult, who were all inside the light motor vehicle, were taken to the Pelonomi Hospital in Bloemfontein on Thursday morning after sustaining serious injuries.
It's said that one patient was also taken to a private hospital for medical attention.
According to eye witnesses, it's alleged that the light motor vehicle tried to cross an intersection but as he was about to turn, an SUV bakkie which apparently had the right of way, hit it and caused it to overturn. The eyewitness says the light motor vehicle then also hit another vehicle on the other side of the road. In a twist of events, the driver of the light motor vehicle is reported to have left the scene and it's not understood if he was taken to the hospital to receive medical attention or not.
Whilst the police were still busy investigating the scene, it was soon discovered that the light motor vehicle doesn't belong to the driver of the vehicle. The three cars were all towed from the scene.
OFM News/Lucky Nkuyane and Kekeletso Mosebetsi