CentralSA
#PrellerSquareShooting case postponed to 2022
─── LUCKY NKUYANE 11:07 Sat, 16 Oct 2021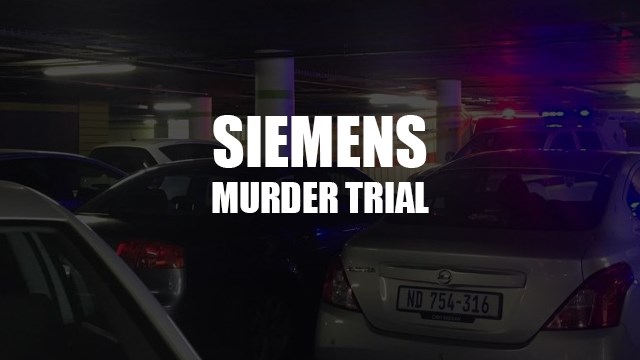 The murder trial of the Bloemfontein businessman, Louis Siemens, has once again failed to reach finality in the Free State High Court.
The case has now been postponed to 2022 for the conclusion of the State's case.
It will now continue from 31 January until 11 February 2022.
It's understood that the prosecutor, Johan de Nysschen, has one more witness to call to the stand before concluding the state's arguments in the case.
Some of the accused were apparently planning on applying for acquittal in the matter, but their hopes were quickly dashed when De Nysschen informed Judge Pitso Molitsoane that he had one more witness on his cards.
Eight men, including the murder mastermind accused, Stanley Bakili, two police officials, and a disbarred attorney, amongst others, are standing trial for the murder of Siemens who was gunned down at the Preller Square parking lot in broad daylight in May 2018.
The case against these eight men has been dragging since 2018. One suspect, the confessed shooter, Xolisile Botha Mbebetho, is serving 22 years in jail for killing Siemens.
In January 2021, OFM News reported that the application for the release of four accused in the Siemens murder case - citing unjustifiable detention – was denied by Judge Molitsoane.
READ: #PrellerSquareShooting: Defence raises 'unjustified detention'
This application sparked a court process to determine whether these four men - who have been in custody for over two years since their arrest - deserved to be released from custody. Currently, three of the eight murder accused in the Siemens case are out on bail.
CityMed Managing Director, Louis Siemens, was shot four times assassination-style in the basement parking of the Preller Square Shopping Complex in May 2018. Ten men have been arrested for allegedly playing various direct and indirect roles in orchestrating and carrying out the murder. Eight of the accused are standing trial while the others have turned into state witnesses.
Since the trial started on 28 October 2019, almost two dozen people took the stand, including high profile government officials such as Home Affairs Minister, Aaron Motsoaledi, former Free State Health HOD, David Motau, and former provincial Health MEC, Benny Malakoane. They denied having any involvement or knowledge of bribes being paid by accused number one, Stanley Bakili, on behalf of the deceased for the amendment of CityMed's hospital licenses to allow for more beds.
OFM News