CentralSA
DA sheds some light on Matjhabeng #WaterCrisis
─── BLAINE JONES 12:03 Thu, 21 Oct 2021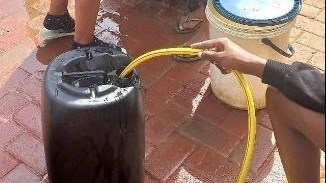 The Democratic Alliance (DA) has shed some light on the water crisis in Matjhabeng, following their recent meetings with the minister, deputy ministers and various high-ranking officials.
According to a media statement, the meetings were unsuccessful in bringing an end to Matjhabeng's water woes.
Despite Matjhabeng paying R10 million during the last 24 hours and committing to pay another R7 million by tomorrow, and despite receiving R8.3 million from the Nala Municipality, the board of Sedibeng Water, Matjhabeng's bulk water supplier, says it needs at least another R13 million to "turn on the pumps". The water board further indicated that this will only cover the expenses until Tuesday 26 October, when another meeting must be scheduled to seek a more permanent solution. During a City Council meeting in July, Matjhabeng's financial statements reflected an outstanding Sedibeng water account of R5.35 billion (R 5 350 000 000).
However, after ministerial intervention, the Sedibeng Water Board indicated that it will immediately have another urgent meeting to reconsider the way forward. The DA says Sedibeng Water is only working at a 16% capacity because Eskom is throttling its electricity supply to a mere 4 hours a day. To complicate the situation, their suppliers refuse to deliver chemicals due to unpaid accounts, the DA says.
"It is estimated that should the Sedibeng Water get back to full capacity, some towns like Virginia will have water within hours, whilst other towns like Ventersburg might have to wait for another four days before water will reach them. The Municipal Manager confirmed that tankers are being arranged and residents will be informed of their availability as the information is communicated," says the party.
OFM News/Blaine Jones