CentralSA
Cash-strapped Kopanong to be put under administration
─── LUCKY NKUYANE 15:18 Wed, 17 Nov 2021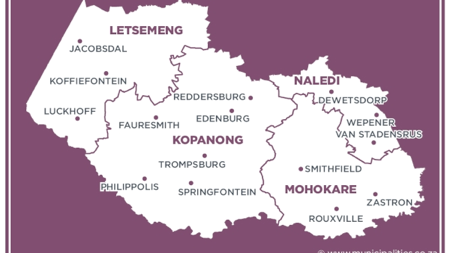 The cash-strapped Kopanong Local Municipality, which owes R26 million to the Samwu pension fund, is now expected to be placed under administration following financial difficulties.
This is to allow for the financial recovery plan at the municipality which also has its account frozen due to the non-payment of these pension fund contributions since 2012. This Trompsburg-based municipality under the Xhariep District Municipality is also yet to pay its 450 workers in almost three months.
According to the Head of the Department (HOD) of Cooperative Governance (Cogta), Mokete Duma, the Free State Executive Council (EXCO) will soon make its decision. Duma says the administration process to be invoked at the troubled municipality will be almost similar to those sanctioned at the Mangaung Metro Municipality in 2019.
However, the council is not expected to be dissolved following the financial crisis.
"What we are contemplating, and we are requesting a decision and an approval from the executive council, is to place the municipality under subsection 139 section 5 (A) & (C) which talks about the financial recovery plan. Section 139 subsection 5(A) talks about the voluntary financial recovery plan and then section 139 and subsection 5(C) talks about the mandatory financial recovery plan. It's almost what we have invoked in Mangaung," he adds.
Duma says the municipality, which has about nine towns, is poor and does not have an economic base.
The Kopanong Local Municipality is by nature one of the poorest districts that we have in our province. It's rural and it does not have an economic base. Kopanong, as a municipality, has about nine towns and all of those nine towns do not have a revenue base. The only two towns that can have revenue base through development in those areas, are Trompsburg and the Xhariep Dam, because they are close by the national road," Duma further adds.
Cogta and Treasury's plan to help this ailing municipality through its Xhariep District municipality, failed as it is deemed legally flawed.
This follows a Free State High Court judgment that attached the municipality's bank account after the municipality failed to pay workers' pension contributions to the pension fund since 2012. The municipality previously confirmed that it needs to first pay a whopping R26 million owed to the pension fund before it can get access to the municipal account, which now stands attached.
Samwu's provincial secretary, Tiisetso Mahlatsi, previously told OFM News that if a worker was to resign or pass on under the current conditions at the municipality, that employee or the employee's family would not be able to claim his or her pension contributions.
OFM News