CentralSA
Decomposed body found at FS farm
─── CORN KOTELI 15:04 Tue, 30 Nov 2021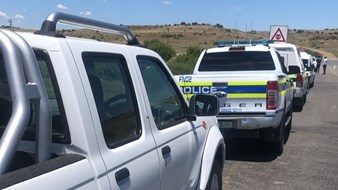 Nine suspects were arrested for murder and defeating the ends of justice at Wepener and the Qibing Township, following the discovery of a decomposed body at a trench dug along the R26 between Wepener and Hobhouse.
According to the Free State police spokesperson, Thabo Covane, the body is believed to be of one of the three African males that were kidnapped and assaulted by a group of people at the Caledon River at the Jammerdrift Farm on 24 September 2021. Of the three African males, only two were returned to their homes and the third one was last seen at the river lying motionless. The suspects will appear in the Wepener Magistrate's Court on Thursday 2 December 2021.
Covane explained the kidnapping is what can be regarded as an act of vigilantism, as the three victims were allegedly accused of committing robberies at foreign-owned stores in Qibing. A case of kidnapping and assault was opened at the Wepener Police Station and four suspects were arrested after two of the three victims were returned to their homes. In addition, a missing person docket was opened after one of the three victims did not arrive home.
A task team from Mangaung Metro SAPS, made up of members from Detective Branches, Counter-Intelligence, and the Tactical Response Team, arrested the 20-year-old suspect in Wepener and a 34-year-old in Qibing at about 23:30 last night. The arrest of these two led to the arrest of seven other suspects in Qibing, with their ages ranging between 20 and 52 years old. Four of the nine arrested suspects voluntarily led the police to the body at about 02:37 this morning. The remains of the victim, who is originally from Botshabelo and stayed in Dewetsdorp before he came to Qibing, were dug out and preserved by the experts from Mangaung Metro Criminal Records Center and were taken by Forensic Pathology personnel to the Bloemfontein Government Mortuary for further investigation.
OFM News