CentralSA
Health workers down tools amidst rising #Covid19 numbers
─── CATHY DLODLO 16:00 Wed, 08 Dec 2021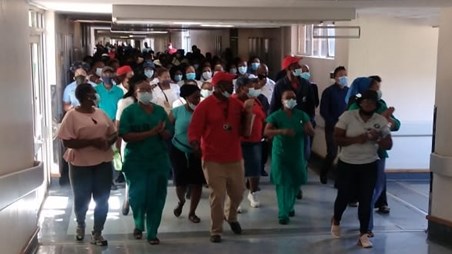 Workers at Pelonomi Hospital have downed tools while Covid-19 numbers amongst health workers in the Mangaung district are on the rise.
OFM News reported earlier that several directorates at the Free State Health headquarters have closed down due to officials testing positive.
Rising numbers are reported and about 17 tested positive in the Thaba Nchu area.
According to information received, one of the main clinics in the greater Bloemfontein area, the MUCPP clinic that operates 24 hours a day, had to scale down operational hours. The clinic's night shift has been cancelled until further notice.
The Provincial Health Department confirmed that 22 healthcare workers tested positive at this clinic.
The striking hospital personnel – healthcare workers, cleaning staff, and security guards – say their struggle to observe Covid19 protocols is one of their health and safety concerns. They say health workers are supposed to wash their hands between attending to patients, but some wards do not even have running water.
Social distancing is also impossible where in some wards there are not even beds for patients and some are sleeping on the floor.
An earlier report also highlighted the number of vacant posts at the hospital that has an impact on service delivery. OFM News is awaiting comment on the strike and the concerns of the workers.
OFM News