CentralSA
#CentralSAfloods: 'We're fast approaching 1988's record levels' - VIDEOS/PHOTOS
─── 16:23 Wed, 19 Jan 2022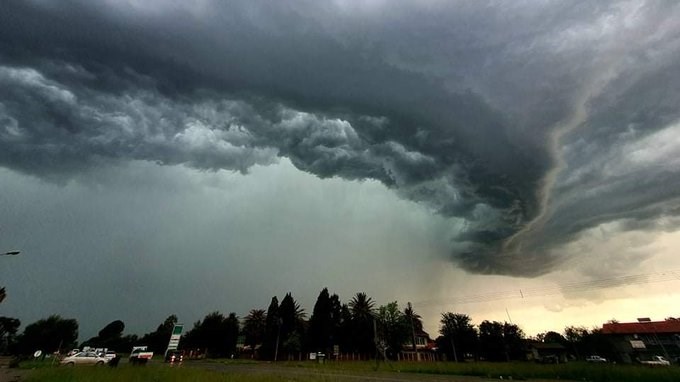 "If above-normal rainfall were to continue in parts of the Free State, we're fast approaching the 1988 floods record levels for the Free State." This is the concern of Dr Jack Armour, commercial manager of Free State Agriculture.
He told OFM News some farmers in the province were unable to plant, while others who did plant are unable to harvest crops or have experienced damages to their crops.
Heavy downpours have been experienced in Central South Africa since December 2021 with more rain still expected. The water tables were already high from last year's good rainfall. The continuous rain has brought about unwanted challenges.
Even though the rainfall is welcomed in other provinces, especially by farmers located in dry areas in the North West and Northern Cape, farmers in the Free State have been hit hard.
Heavy rain devastates grain lands in the western Free Statehttps://t.co/9MBR3PAART (Video courtesy of Retha Otto) pic.twitter.com/zpHVQWS32G

— Farmer's Weekly SA (@FarmersWeeklySA) January 7, 2021
Meanwhile, the opening of Vaal Dam sluices are wreaking havoc downstream. The Department of Water and Sanitation monitors the ongoing rising Vaal dam level and continuous downpours of rain to manage the opening of sluice gates at the Vaal River to avoid further flooding. Despite opening five of the gates at the Vaal Dam over the past few days, the dam level was still at 109% capacity.
READ MORE: Opening of Vaal Dam sluices wreaking havoc downstream
18/01/2022#FLOODING
BLOEMHOF DAM - FREESTATE
110% full.
Supplies most of Gauteng.
Sluices opened - running at 2000 cumec per second into Vaal-Orange river.
Nearby farmers moved equipment and residents evaquated their homes.
WARNING OF INCREASE IN RIVER WATER LEVEL pic.twitter.com/PbezVdQjrg

— RIOT & ATTACK info South Africa (@RiotAndAttackSA) January 18, 2022
#Vaaldam se vlak bly styg al is daar 5 sluise oop 19/01/2022 #Oranjeville
??Theresa du Toit @SAWeatherServic @ewnreporter @VoxWeatherZa @peoples_weather @AgriSA1904 @willempelserrsg @maroelamedia @GCNnews pic.twitter.com/TSNBU5p7tM

— ReenvalSA (@ReenvalSA) January 19, 2022
Residents of the Kraaipan Village near Mahikeng in the North West are frustrated as rain is still pouring in their area. Learners and ordinary people can't continue with their day-to-day business after heavy rain destroyed their bridge on Sunday after a nearby lake overflowed:
The above-normal rain did not only cause damage to crops but also to road infrastructure, amongst other infrastructure.
R390 between Venterstad and Steynsburg. Road closed. 15 Jan 2022 ?@zarsg? ?@AlgoaFMNews? ?@OFM9497? pic.twitter.com/e5bNFq0qnT

— Annette Steyn (@AnnetteSteyn1) January 15, 2022
Motorists are advised to be cautious on R711 road between Clarens and Fouriesburg, Free State. pic.twitter.com/DmTbGuVjjT

— Dr Daniel Marven (PhD) (@danielmarven) January 16, 2022
Mangaung Metro spokesperson, Qondile Khedama, says municipal workers had to open trenches in order to allow the flow of water in some areas. Khedama says the municipality is trying its utmost best to have its emergency services on the ground to deal with any challenges that might arise due to more rains. He says the municipality will also use its graders to level some of the gravel roads.
Meanwhile, the Department of Public Safety and Transport Management in the North West is warning motorists to be cautious when travelling on the N18 linking Mahikeng and Vryburg because of the recent flooding.
The spokesperson for the department, Boitshoko Moremi, says the N18 just outside Mahikeng is submerged and motorists are urged to slow down as they approach the area.
Many listeners have sent photos (see gallery) and videos, others posted theirs on social media.
In Koffiefontein, the water pan is overflowing and the river that has been dry for years, is starting to flow again. The Kalkfontein Dam is 105,98% full and is overflowing at a rate of 38.18m3/s. This video was taken by Jaco Liebenberg:
OFM News