CentralSA
Suspects arrested for copper cable theft worth about R1 million
─── 15:08 Wed, 22 Jun 2022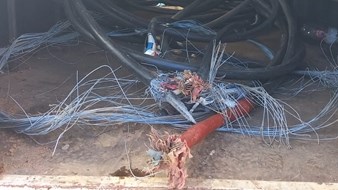 Three suspects have been arrested for copper theft from a cellphone tower in Springbok in the Northern Cape, and two accomplices are reportedly still at large.
Northern Cape SAPS spokesperson, Sergio Kock, told OFM News that about 86 metres of copper cable, worth approximately R1 million, was stolen. The police reportedly retrieved 70 metres.
Kock says on 21 June 2022, members of the SAPS caught the suspects at the scene, after the Springbok SAPS Visible Policing Unit received a complaint of alleged copper theft at a cellphone tower.
"Cellphone towers were shut down for almost the whole of yesterday and there was no cellphone coverage in that area for almost half the day in Springbok. And this has caused huge damage to not only the community, to us the normal people, business people, as well as places like hospitals and police stations that really need to use these cellphone towers for their everyday service to the community."
The arrested suspects are expected to appear in the Springbok Magistrate's Court soon, on charges of damaging, destroying, and tampering with essential infrastructure. The police are confident that they will arrest the other two as the investigation continues.
OFM News/Bambatha Giko and Mpho Mohapi