The Joyride Blog
Weird Wide Web - Ducking marathon
─── 15:14 Fri, 12 Nov 2021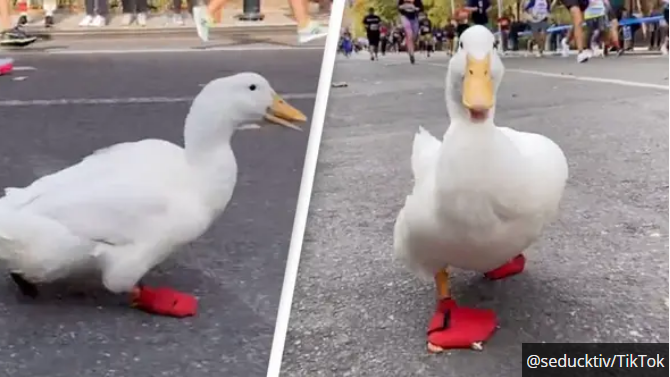 It's time to bask in the athletic prowess of Wrinkle, the especially spiffy emotional support duck, who ran at least part of the New York City Marathon on Sunday.
"The videos of her quick waddling in her homemade red shoes have enthralled millions on TikTok. I honestly don't know whether to call it a stride, strut, or trot, but it seems that Wrinkle, who is a Pekin duck, is enjoying her jog and the adulation of the marathon crowd. She's so confident!"
"You got this, little ducky!" one person yells in the video.
Yep, a duck ran some parts of the 42 km New York City Marathon! If that wasn't already something, Wrinkle also had her own, custom made running red shoes.

Wrinkle isn't only just running to keep fit, as mentioned above, she is also an emotional support animal.
As explained in the article, "emotional support animals are animals, oftentimes dogs, who help someone who dealing with the effects of a "physical or psychological disability," as defined by the American Veterinary Medical Association."
One thing we can for a fact say about this duck, is that she is way more fit than any of us on The Joyride!
You can read the full article by following this link.
Weird Wide Web - Ducking marathon: