The Joyride Blog
What's on the Menu - French toast
─── 17:20 Thu, 16 Jun 2022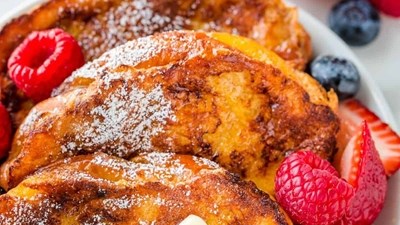 This week, Chef Maradine gives us a quick snack, late breakfast or - depending on your mood - easy dinner recipe. She tells us how to make French toast.
French toast
Ingredients:
6 large eggs
2 large egg yolks
1 cup milk
1/4 tsp salt
2 tsp vanilla extract
1 tsp ground cinnamon
1 tbsp warm honey
8 slices thick bread
3 tbsp butter, to sauté toast

ALSO READ: In case you missed it, here's last week's Toffee apple pudding

Method:
1. Slice the bread thickly, and arrange on a wire rack for 1-2 hours if time permits, in order to dry out the bread slightly.
2. Preheat the oven to 160 degrees Celsius.
3. In a medium bowl, whisk together eggs, yolks, milk, salt, vanilla, cinnamon and warm honey until well blended and the honey has dissolved. Pour the mixture into a dish that fits 4 pieces of toast at a time, or as many as will fit your skillet at a time.
4. Preheat your skillet over medium-low heat and melt in 2 tbsp. butter.
5. Dip 4 pieces of bread into the egg mixture at a time and soak for 30-40 seconds per side, depending on the thickness of the bread. Remove bread slices from the egg wash, letting excess liquid drip back into the dish.
6. Place the bread slices into the hot skillet and sauté for 3-4 minutes per side until golden brown.

7. Transfer to a baking sheet and place in the oven to keep warm at 160 degrees Celsius.
8. Repeat Step 5 with the remaining slices of bread, adding more butter as needed. Once all the slices have been sautéed, keep them in the oven for another 10-15 minutes for the custard centre to set fully, then serve warm with your favourite toppings.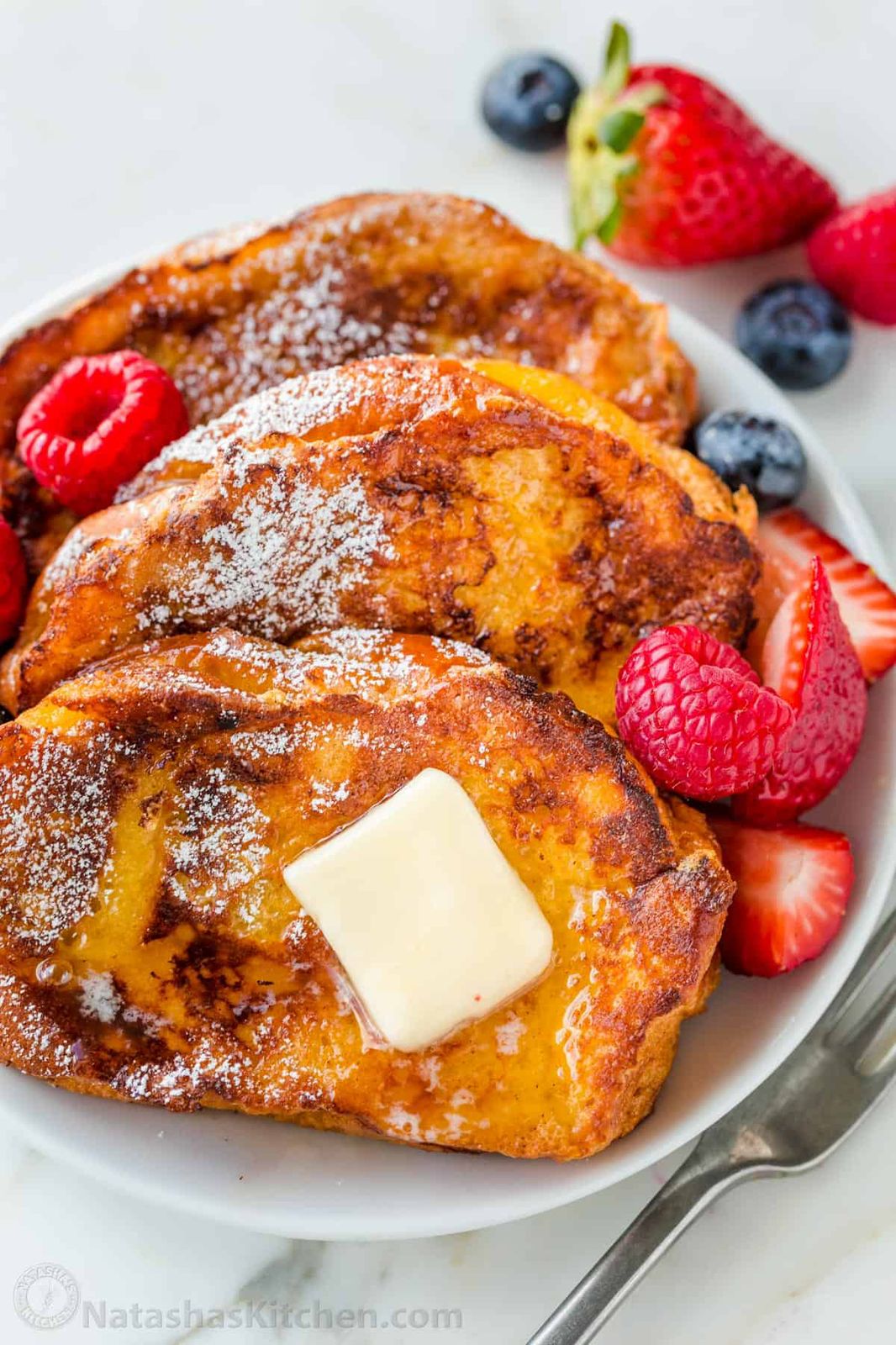 Salted caramel sauce for your French toast:
Ingredients:
1/4 cup (60 ml) water
1 cup (200 grams) granulated sugar
2/3 cup (160 ml) thick whipping cream
3 tablespoons (45 grams) unsalted butter, cut into tablespoon-sized pieces
1 teaspoon vanilla extract
1 teaspoon salt , or to taste

Method:
1. In a heavy-bottomed saucepan, heat the water and sugar over medium heat. Make sure to use a saucepan that's a little bigger than what you think you will need. Stir constantly until the sugar has dissolved and the mixture starts to bubble just a little.

2. Increase the heat to high and bring to a boil, then stop stirring completely. Let the mixture continue boiling until it turns an amber colour - this could take anywhere from 4-12 minutes.

3. Remove from the heat and slowly whisk in the thick cream. The mixture will bubble up quite a bit, so make sure to do this very carefully. Then, mix in the butter, vanilla, and salt one at a time.

4. Pour the caramel sauce into a dish and allow to cool completely, then cover tightly and store in the refrigerator. The caramel sauce will thicken up once it's cooled and refrigerated.
What's on the menu - French toast: