Agri Hour
Local FS farmers listed their demands at Senekal
─── CHRISTAL-LIZE MULLER 08:34 Wed, 07 Oct 2020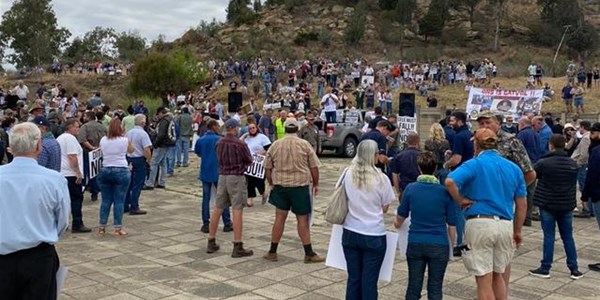 Farmers from Senekal, Bethlehem, and Paul Roux made a strong statement during the gathering at the Senekal Magistrate's Court where two suspects briefly appeared on Tuesday in connection with the murder of the young farm manager Brendin Horner.
These farmers prepared a joined statement and had various demands that were read out loud by a farmer from the Paul Roux district in the Free State, Jess de Klerk. He read the statement to a large group of people who turned up in support of Horner's relatives and friends. Here is De Klerk...
See PODCAST at the end of the page
De Klerk said South Africans are now waging a war with offenders. He said farmers, their families, and employees carry a heavy burden on their shoulders due to the attack on Horner. A list of demands includes that the two suspects, Sekwetje Mahlamba and Sekola Matlaletsa, are not to be released on bail. At the same time, a national task force should be formed to investigate stock theft in Paul Roux and surrounding areas. They demand the investigation of the involvement of police members in stock theft, including senior police members in this cluster. They demand that farm murders and attacks are prioritised as a priority crime. This must be done within seven days. They also insist that Pres. Cyril Ramaphosa acknowledges that attacks and murders on farms are a national problem. Ramaphosa must also indicate that farmers did not steal land and that police minister Bheki Cele must be fired. Cele must also apologise and stop condoning farm attacks. Politicians who incite farm attacks must also be held accountable.
De Klerk says farmers from these Free State communities and others in the rest of the country are urged to take these demands to the government, to every possible committee who must take their demands and grievances to the government. The message must be taken to every government in the world as well, said De Klerk. The story must be told how farmers and their workers are being tortured and raped.
OFM News