CentralSA
#FSSopa: Ntombela commits to attend to municipal woes
─── KATLEHO MORAPELA 15:36 Tue, 25 Feb 2020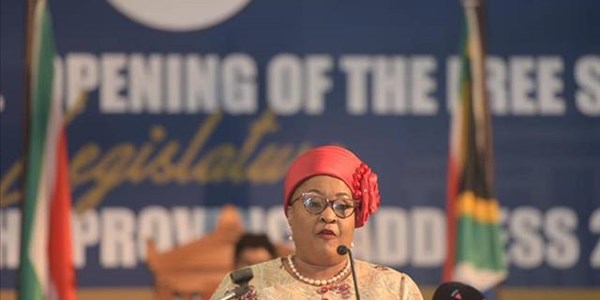 Free State Premier Sisi Ntombela says she is confident challenges faced at municipal level will soon be resolved.
Delivering her State of the Province Address (SOPA) at the Dr Molemela Indoor Sports Centre on Tuesday, Ntombela said the provincial government has noted service delivery issues faced in various areas and are attending to it. Following the recent move they made in placing the Metsimaholo Local Municipality and the Mangaung Metro Municipality under administration, Ntombela confirmed that more needs to be done in these municipalities to ensure the provision of services to residents. She told hundreds gathered at the Indoor Sports Centre that she is confident the administrative team appointed to bring about stability in these municipalities will do a sterling job. She confirmed the water crisis in Maluti-A-Phofung and many other municipalities is still a great concern, which they are attending to through infrastructure development.
"The Free State was declared one of the hardest-hit drought provinces in the country last year, and the drought, unfortunately, affected thousands of residents leading those in areas such as Qwaqwa in dire straits. We are, however, pleased that the national government has lent a helping hand to the tune of R220 million and we are still working closely to redress the situation in Maluti-A-Phofung".
Ntombela alluded that more funds will be allocated towards water and sanitation infrastructure development.
She announced that R10 million has so far been allocated towards the eradication of pit toilets in the province.
Ntombela's commitment towards water and sanitation infrastructure development comes just months following a damning report by Stats SA.
The Stats SA's non-financial census of municipalities report released in August 2019, highlighted that the highest number of people still subjected to using municipal bucket toilets in South Africa are found in the Free State. The report indicated that out of the 42 612 units that still exist in the country 47% are found in the Free State with the Setsoto, Nala and Ngwathe Local Municipalities recording the highest numbers.
Ntombela reiterated that stabilising municipalities, ensuring that they are able to collect revenue, and ensuring that they carry out their obligations are amongst her top priorities.
In reaction to the SOPA, the MEC for Treasury, Gadija Brown, highlighted that restructuring local governance and capacitating municipalities to ensure that they are able to provide services and attract investors will be the order of the day moving forward.
"The aim really is to deal with governance in the council and thereafter trickle that down into administration. With a clear view of the implementation of basic services and basic service delivery, we can see a change in municipalities."
OFM News