CentralSA
Unions threaten to shut down Mangaung
─── 15:07 Fri, 09 Apr 2021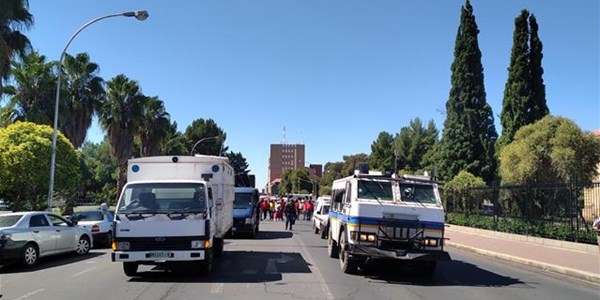 Trade unions within the Mangaung Metro Municipality are unwavering they will shut down the municipality within seven days should it fails to heed their call.
The South African Municipal Workers Union (Samwu) alongside the Congress of South African Trade Unions (Cosatu) and South African National Civic Organisation (Sanco) demand that Municipal Manager, Tankiso Mea, vacate his office. Hundreds of employees affiliated to the unions took to the streets of Bloemfontein today to express their frustrations. They demand that Mea be suspended pending investigations into his office and that the Council be dissolved. Samwu's Lucky Sebego, tells OFM News Mea has rendered the municipality dysfunctional, and is at the helm of its service delivery debacles. He says the municipality is in a state of disarray.
Sebego, addressing hundreds of protestors who marched from the infamous Ramkraal Building to Bram Fisher Building, said it is concerning that the municipality remains in a financial rut, with service delivery issues and employees' concerns not addressed despite it being under administration.
"This metro does not have the leadership to turn it into what it is supposed to be. There are several issues at play including those concerning service delivery as well as the plight faced by workers. The City Manager must step aside or resign for the mere fact that he is under investigation for corruption. The position of Samwu is that it cannot be right that someone is under investigation, but still occupies an office" said Sebego.
The municipality was placed under administration in December 2019, following concerns after it was downgraded twice by Moody's Credit Ratings.
Meanwhile, the Metro's Mzingisi Nkungwana accepted the union's memorandum of demands on behalf of Mea's office and vowed that the municipality will respond in due course.
OFM News/Katleho Morapela and Lucky Nkuyane