CentralSA
Agreement to end #MangaungShutdown 'still being reviewed'
─── OLEBOGENG MOTSE 16:31 Tue, 18 May 2021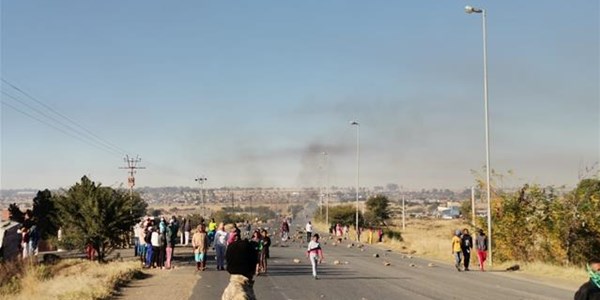 One of the leaders of the Mangaung Community Concern – Lilly Tsoeu – tells OFM News that an agreement between the movement, Ntombela and Mangaung Metro is on the table and is still being reviewed by all parties.
This after the Free State Premier, Sisi Ntombela, met with the leadership of the Mangaung Community Concern, the organisation behind the Mangaung Shutdown, on Tuesday afternoon.
Despite the end of the protest on the horizon, the damage has unfortunately been done. A 14-year-old Grade 7 learner from Heide Primary School, Liam Siegal, was allegedly shot and killed by a security guard in an alleged Heidedal looting incident on Monday.
The number of people arrested so far after protest action in the Mangaung Metropolitan Municipality now sits at 19 overall.
The Free State police spokesperson, Motantsi Makhele, says the 12 additional arrests were made from Monday evening (17 May) onwards in connection with instances of public violence and looting. Makhele warns that more arrests in connection with the latter offence are looming. About 13 shops, mostly owned by foreign nationals, have been looted in varying Bloemfontein townships.
In another incident, the manager of the Mangaung Metro Solid Waste division was hijacked whilst heading to work in his white BMW by three males travelling in a silver Isuzu Bakkie. Shortly after the incident, the BMW was found on fire.
Meanwhile, the South African Police Service (Saps) has deployed additional personnel from other towns, cities, and provinces to assist with monitoring unrest in the Mangaung Metro, which includes Bloemfontein, Thaba' Nchu, Dewetsdorp, Soutpan, Botshabelo, and Wepener. The OFM News team was in Dr Belcher Road and spotted police vehicles from Mahikeng, Rustenburg and Potchefstroom attesting to the aforementioned deployments.
OFM News