CentralSA
R30 between Ventersdorp, Derby now open following brief protest
─── OLEBOGENG MOTSE 11:47 Fri, 17 Sep 2021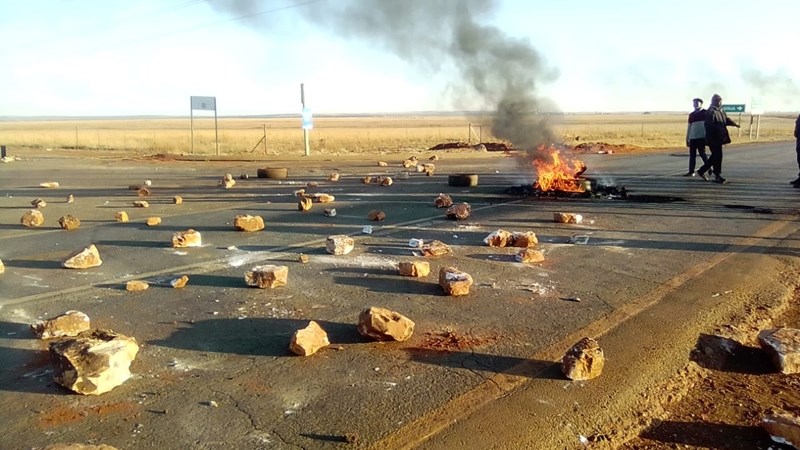 The R30 road between Ventersdorp and Derby in the North West is now open for traffic following a brief protest action by residents in the area Friday morning.
North West police spokesperson, Adelé Myburgh, confirms that a portion of the road was briefly barricaded with rocks and other debris as a group of about 35 people demonstrated there. Myburgh says the police managed to disperse the small crowd following some disruptions to traffic.
Myburgh, who cannot confirm what the root cause of the unrest was, says no damage was incurred in the protest and no arrests were made.
A source has anonymously informed OFM News that the matter pertains to a piece of land, on which sites were allocated by the JB Marks Municipality to lower income residents in need of homes. It's alleged the municipality is yet to issue title deeds to these residents and this was the cause of the unrest. JB Marks spokesperson, Willy Maphosa, couldn't be reached in time to elaborate further on the issue before publication.
The complaints do, however, bare a similar resemblance to those raised by residents of the Caleb Motshabi and Klipfontein informal settlements on the outskirts of Bloemfontein, regarding the allocation of housing sites in July 2021.
READ MORE: Tensions brew over Bloemfontein housing issues
Impoverished citizens who have called Caleb Motshabi (also known as "Dinaweng") their temporary home for some time, watched helplessly as "strangers" allegedly score housing sites ahead of them at the Klipfontein farm across from the R702 road, which merges into the M3, despite not being on the list. In July, some of these disgruntled residents barricaded a portion of the road with rocks, demanding that they be prioritised on the list for sites.
Mangaung Metro purchased the farm to ensure that residents who have built shacks on top of major Bloem Water pipelines that endanger their lives, can be legally assigned to safer sites. Klipfontein resident and activist, Tefo Phakiso, alleged at the time that there is some corruption at play with regards to the allocation of housing sites.
He further told OFM News that some of the "lucky" individuals who score housing sites on Klipfontein farm are gainfully employed individuals, and in some instances business owners, who are eyeing the area for their businesses as the area develops.
OFM News