CentralSA
Independent candidates aim to end broken political party system
─── OLEBOGENG MOTSE 17:06 Tue, 12 Oct 2021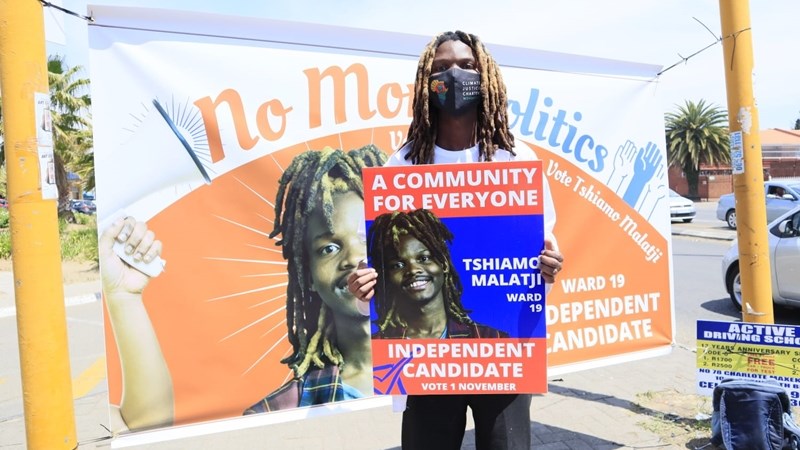 The significant rise in independent candidates contesting the 2021 local government elections is being heralded as a step towards ending the country's broken political party system.
One such a believer of this ideology is 23-year-old Bloemfontein-based activist and community organiser, Tshiamo Malatji, who is vying for election in Mangaung Metro's ward 19 as an independent candidate.
Ward 19 includes the student-heavy areas of Willows, Westdene, and Bloemfontein's central business district.
Malatji, who is one of the seven candidates in the metro, says the problems emerging in the metro are in some instances being absorbed by financially constrained non-governmental organisations (NGO) in the city, one of which he works for.
Malatji says things in ward 19 have gotten worse over the years as the government fails to step up and assist the homeless, the unemployed, and entrepreneurs whose lives were dashed following Covid-19 in these areas.
He believes that because local activists deal with these issues daily, it is them who should run for office.
His sentiments come after the Electoral Commission of South Africa (IEC) told OFM News that they have 134 registered independent candidates for the elections as compared to 81 in 2016.
This comes down to an increase of 53 candidates.
The number of independent candidates in the Northern Cape for the 1 November elections has doubled from 34 to 72 in 2016.
IEC spokesperson in the Northern Cape, Elken Topken, tells OFM News that they are thrilled to see that many more independent candidates are contesting.
In September, the IEC announced the fees for contesting in the 2021 local government elections remain unchanged from those in the 2016 municipal elections.
Party-affiliated candidates contesting the elections in a metropolitan, local and district municipality are meant to cough up R3500, R2000 and R1000 respectively.
Independent candidates and party-affiliated candidates not contesting proportional representation (PR) election are paying R1000.
Political parties contesting all elections across the country must pay a deposit of R482 000 for a total of 4 725 elections and ballot papers.
The IEC says these figures, whilst appearing to be significant, do in fact reflect a substantial decrease in the deposit amounts since the 2011 municipal elections.
The IEC has announced that it will be introducing new voting management devices for these municipal elections.
They have also vowed to ensure that all Covid-19 related protocols will be adhered to, come the election period.
The elections take place on 1 November, whereas special voting commences on 30 October wrapping up on the 31st.
OFM News