CentralSA
FS Premier dismayed at male vaccination rate
─── 11:08 Fri, 15 Oct 2021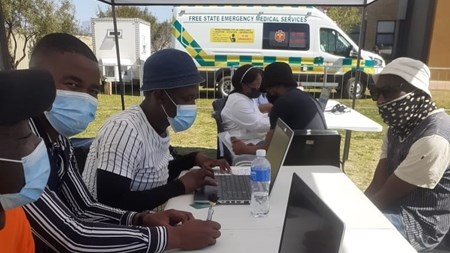 The Free State government, under the leadership of premier Sisi Ntombela, has expressed dismay at the lower number of men who are being vaccinated.
During a visit to the Eastern Free State, Ntombela said a lot more men are dying because of Covid-19 than their female counterparts - adding that this is because women are rolling up their sleeves and getting vaccinated.

Ntombela, alongside the Health MEC, Montseng Tsiu, visited Qwaqwa at the Phuthaditjhaba Multipurpose Hall, together with the traditional healers and preachers. She reiterated the call for residents to get vaccinated against Covid-19, saying only 1.9 million people have been vaccinated this far in the province.
Their purpose was simple - to encourage those in the Eastern Free State to go vaccinate to fight against the upcoming fourth wave of the pandemic.
She said the department of Health has opened about 20 sites for the vaccination, and they were mobilising the government's Vooma vaccine rollout drive.
The Nketoane and Setsoto Local Municipalities are showing a lesser percentage of people who vaccinate, and this worries the Provincial Health Department. Only 14% of youth are registered to be vaccinated while 78% of pensioners have registered.
OFM News has also learned that people who have medical aid have registered in higher numbers than those who are not insured.

OFM News/Tumelo Khotha