CentralSA
#ExclusiveNews: Distressed FS municipalities to be placed under provincial care
─── OLEBOGENG MOTSE 15:50 Tue, 23 Nov 2021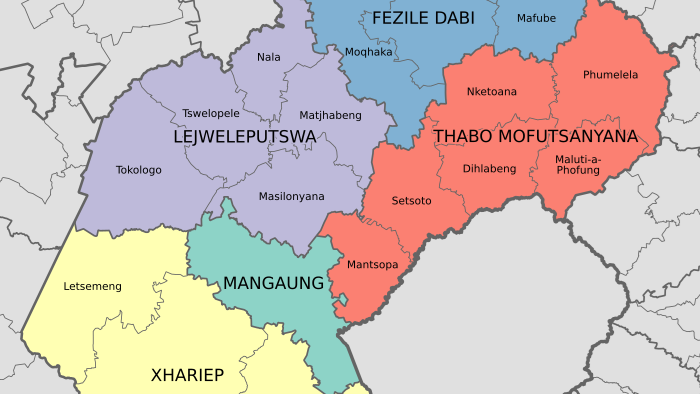 Five distressed Free State municipalities will soon be added to the existing number of municipalities in the province under provincial care.
This as municipal councils countrywide are electing new leadership following the local government elections held on 1 November. A letter from Finance Minister Enoch Godongwana to Free State Premier, Sisi Ntombela, prior to these hotly contested elections reveals it has been decided that the Tokologo, Matjhabeng, Maluti-a-Phofung, Mafube, and Kopanong Local Municipalities be placed under administration. Under section 139 of the Constitution, the provincial government will have to introduce and closely monitor financial recovery plans for these distressed municipalities.
The Mangaung Metro and Metsimaholo Local Municipalities, who are already under provincial care, will continue to remain so. The decision has come on the back of engagements between the National Treasury, led by Godongwana and the Department of Cooperative Governance and Traditional Affairs (Cogta), in which 43 dysfunctional municipalities were identified for intervention across the country. Free State Cogta head, Mokete Duma, confirms that these plans are in the pipeline and a letter/statement will be issued on the matter soon.
OFM News has reported extensively on many of these municipalities:
Kopanong Local Municipality has failed to pay employee salaries for nearly three months. This after the Free State High Court ordered that the municipality's bank account be attached after it failed to pay workers' pension contributions to the tune of R26 million. Till the matter pertaining to the pension fund debacle is sorted out, the municipality which includes Trompsburg, Bethulie and Jagersfontein, will not be able to access its account.
READ MORE: FS Cogta denies it was blind-sided by Kopanong's issues
The Mangaung, Matjhabeng and Nala Local Municipalities have all in recent months had water supply to residents suspended by Bloem and Sedibeng Water respectively. Potable water supply was restored after payments on the outstanding debts were made. Matjhabeng owes Sedibeng Water R4,4 billion, plunging the water board in distress and resulting in the delayed payments of salaries. This is a developing story.
OFM News