CentralSA
UFS Qwaqwa campus damage could run into the millions
─── OLEBOGENG MOTSE 08:00 Wed, 16 Mar 2022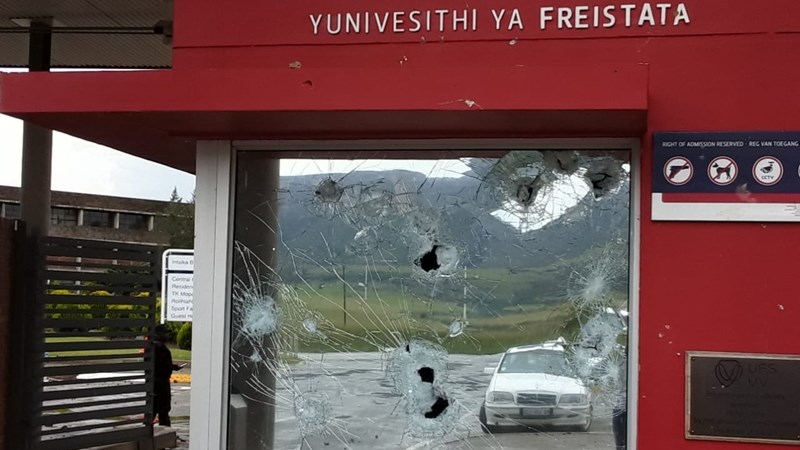 The damage incurred at the University of the Free State's (UFS) Qwaqwa campus, following violent looting and vandalism that occurred on Monday, could run into the millions.
This is according to the Vice Rector responsible for operations at UFS, Prakash Naidoo, who says the computer centre and the dining hall were among the most damaged sections of the campus. Naidoo formed part of a panel that briefed the public on Tuesday on the latest developments regarding the violence. He says the exact cost of the damage is still being ascertained.
The Vice-Chancellor of the institution, Francis Petersen stressed, during the presser that the Student Representative Council (SRC) had no involvement in the violence witnessed at the Qwaqwa campus.
Petersen says UFS management has been engaging with the campus SRC regularly on the matter, and the council has accepted the situation as is, albeit requesting that the institution approach the National Student Financial Aid Scheme (NSFAS) on ensuring that students are given their housing allowances directly as opposed to the landlords.
Also read: UFS opposes bail after Qwaqwa campus violence - VIDEO
This is the bone of contention between the disgruntled students and the institution. The group is unhappy that NSFAS accommodation allowances are no longer being paid directly to students, but rather to their stated landlords. The UFS changed the system following a 2021 fraud and forgery scandal in which an unspecified number of students submitted forged rental accommodation contracts. Petersen says the students, who were then receiving their accommodation funds directly, inflated the rental amounts to enable themselves to receive extra money from the university. Not only is a criminal process underway, but so are internal disciplinary processes.
Petersen emphasised his unhappiness with the criminality that was witnessed in the Eastern Free State campus adding that "we can't allow that our university becomes a platform for criminal acts. That is not good for the image of the university as such, but more so it can create a culture of entitlement. And if you don't get what you believe you're entitled to, you commit criminal acts".
Also read: UFS students in hot water
More arrests are imminent regarding Monday's violence. In the meantime, classes at the Qwaqwa campus continue online. The campus had just made a full return to face-to-face classes when the incident occurred.