CentralSA
Free State Education announce cost-cutting steps
─── LUCKY NKUYANE 13:49 Wed, 06 Apr 2022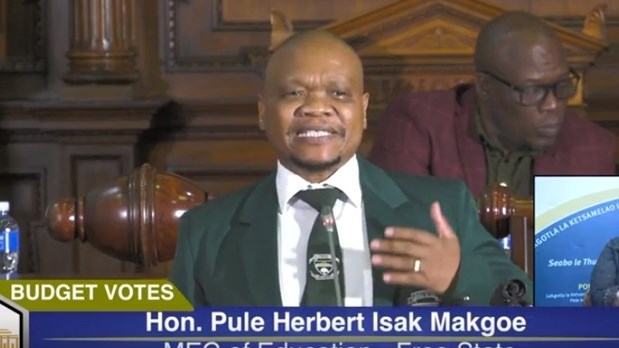 The Free State Department of Education has announced bold ambitions to curb unnecessary, excessive costs.
The Member of the Executive Council (MEC) Tate Makgoe says the department wants to internally handle the designing of schools and only hand over the last stage, namely the construction of schools, to private companies to build.
Tabling his budget speech, Makgoe announced that four stages, including the design of the model of schools, will be handled by his department, only the fifth stage of construction will then be handed over to the construction company.
MEC Makgoe previously came under scrutiny when his department was accused of exclusively handing work to build classes at schools around the province as a tender to President Cyril Ramaphosa's Kagiso Shanduka Trust (KST) and both the president and MEC Makgoe denied the claims.
Read more: EFF approaches PP over Kagiso Shanduka Trust and FS Education
However, Makgoe said this new move will assist his department in curbing unnecessary, excessive architectural design costs even in repetitive designs, and also encourage creativity.
"The department will in future handle Infrastructure Delivery Management System (IDMS) stage 1 up to stage 4 internally, and only hand over projects to Implementing Agents to handle stage 5 (construction stage) onwards.
Furthermore, the department will have different prototypes for different age groups or phases of the schools. The safety of our learners and teachers in schools is of paramount importance. Foundation phase learners should always be monitored by the school principals," Makgoe said.
On Tuesday, Makgoe tabled the departmental budget allocation of over R17 billion for the current financial year of 2022/23. He announced that his department has for the current financial year set aside over R3 million for the training of Grade R Practitioners who are at the Early Childhood Development Site.
During the tabling of his budget speech on Tuesday at the Free State Legislature's sitting, MEC Makgoe said that his department will convert the Lourier Park Intermediate School in Bloemfontein into a School for Autism.

MEC Makgoe added that in the current financial year, R360 million has been set aside to provide schools with additional facilities such as ablution facilities, grade R classes, nutrition centres, and laboratories.