News
Agri podcast: Farmers receive fodder following fires
─── ELSABÉ RICHARD 14:16 Wed, 29 Sep 2021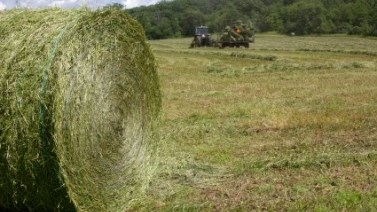 Farmers that were affected by veldfires in the Edenburg area in the Free State, received fodder as well as bags of protein-based pellets for their animals on Wednesday September 29.
his, as the provincial MEC of Agriculture and Rural Development, William Bulwane, reached out to the farmers after thousands of hectares of grazing land were recently destroyed in Thaba Nchu, Koffiefontein, Jacobsdal, Petrusburg, Bainsvlei and Edenburg, among other towns. Damages include game, livestock and farm infrastructure such as buildings. Bulwane says the department plans to reach out to other affected towns in the coming weeks.
Preliminary estimates have shown that about 100 000 hectares of grazing was destroyed in veldfires outside Kimberley in the Northern Cape these past few days. According to Nicol Jansen, president of Agri Northern Cape, farmers are still trying to determine the extent of the damage. Jansen says that all fires have been extinguished in the areas around Kimberley as well as along the N12 and N8 to Bloemfontein. OFM News previously reported the organisation has made R20 000 available to assist veterinarians in treating injured animals. Jansen says some of the immediate needs that affected farmers have include feed and animal medicine.

Meanwhile, Erich Stoch, chairperson of the North West Umbrella Fire Protection Association, adds that various wildfires were also reported in the province these past few days. He adds that during the period between May 1 and September 23 this year, more than 620 000 hectares grazing land were destroyed. If you'd like to assist those fighting the fires across central South Africa, you can donate bottled water and sealed foods, such as sandwiches and energy bars, at your nearest fire department.

AND
The shortcomings currently detected at Livestock Theft Units in the SAPS by farming communities in the Free State, are contributing to what can almost be regarded as economic sabotage of the agricultural sector. This is the opinion of Free State Agriculture and the Red Meat Producers Organization. According to Isabel Kruger, chairperson of the Livestock Theft Prevention Forum in the Free State, shortages of resources are increasing, with no actual intervention from police top structure. Furthermore, Free State Agriculture's Dr Jane Buys says highly plagued areas including Heilbron and Fouriesburg – are currently under great pressure due to increases in stock theft. Buys says in order to stop syndicates, the involvement of role players such as the Hawks, Organized Crime Unit, and Crime Intelligence is needed.
OFM News