The Joyride Blog
Weird Wide Web - 12 Days of Christmas, a very expensive song
─── 15:20 Wed, 01 Dec 2021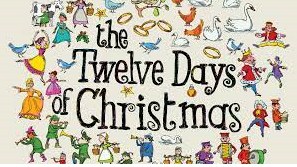 This year, 12 days of Christmas will cost American shoppers way more than previous years.
On upi.com, The annual index has been around since 1984 and measures the current cost of obtaining all items in a full verse of the iconic carol. After plummeting last year, the index is up 5.7 percent this season, the largest jump since 2013. It would cost about $41,206 to obtain the requisite items from each of the 12 verses. That figure is up from $16,168 last year and $38,994 in 2019. Yep, if you were to buy all the items in the 12 Days of Christmas song, you would pay R651 998,42.
However, there is an up side to this whole story. The song, 12 Days of Christmas, isn't South African at all. So you can spend all that money on a generator, because load shedding is South African.
Weird Wide Web - 12 Days of Christmas, a very expensive song: