The Joyride Blog
Conspiracy Corner - Advance surgery could actually be 2000 years old!
─── 15:44 Wed, 19 Jan 2022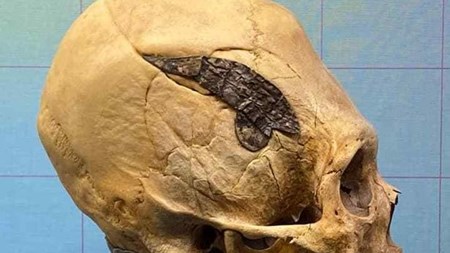 The evidence of advanced surgery is 2,000 years old. This skull, which has been 'held together with metal', is a long and elongated specimen.
The skull, currently in the possession Skeletons Museum of Osteology Oklahoma, US, is thought to have been destroyed in battle 2000+ years ago. The warrior returned from battle with a broken skull and needed surgery to repair it. Broken skulls can cause severe injury, and may even lead to death. Peruvian surgeons are believed to have miraculously fused metal to seal the wound. The skull is unique and dates back to 2000 years ago. It is also believed that the man survived the procedure.
Experts at SKELETONS: Museum of Osteology also believe the man survived the procedure but there is still a lot of mystery surrounding the skull's history. The Silver Screen Beat was told by a spokesperson for the SKELETONS Museum of Osteology: "We don't know the metal. Traditionally, silver and gold was used for this type of procedure." Although the skull was not originally on display at the museum, the public became interested in it and they decided to display it in 2020. Read more on this skull by clicking here. And to find out more about elongated heads from the Peruvian society here.
Conspiracy Corner - Advance surgery could actually be 2000 years old!: