The Joyride Blog
Weird Wide Web - Trash expensive sneakers
─── 17:47 Thu, 12 May 2022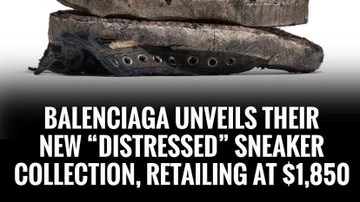 From runway to bin day, Balenciaga has the shoe for you.
According to ladbible, the luxury label has just unveiled its new limited edition 'distressed' kicks, and they look oddly like those manky old Converse you drew on with permanent markers back in high school.
However, these bad boys will set you back an eye-watering US$1,850 (over R30 000).
Keep in mind that this is the brand that brought us heeled crocs. And platform crocs. Pointy rain boots. Basically, they just really love a weird shoe... or they're laughing at us. It's hard to tell.
In Balenciaga's own words, the shoes are made from 'full destroyed cotton and rubber' with 'rippings all over the fabric'. The way you can tell them apart from any other shoe you pull out of the rubbish bin is that they feature Balenciaga-branded graffiti along the side, which looks like it's been drawn on with permanent marker. Yay.
The 'extra-destroyed' kicks are available in black and white, and the luxury brand says it will only sell 100 pairs of these limited-edition sneakers. Depending on how you look at it, is that a bad thing? If the aftermath-of-zombie-apocalypse-in-shoe-form isn't your style, you can get the same shoe without all the marks and tears for slightly less. But that doesn't mean people on social media didn't have some points to raise. Read more on this story here.
ALSO READ: Weird Wide Web - Ducking marathon
Weird Wide Web - Trash expensive sneakers: