News
Agri podcast: Vrede Dairy Project handed over to beneficiaries
─── ELSABÉ RICHARD 14:01 Fri, 14 Jan 2022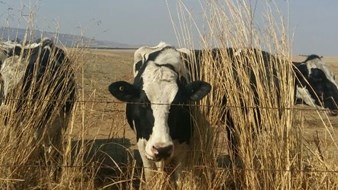 The MEC of Agriculture and Rural Development in the Free State, Thembeni Nxangisa, is in Vrede where he officially handed over the Vrede Dairy Integrated Farm Project to 65 verified beneficiaries.
The handover comes after the project was established in 2012 by the Provincial Department of Agriculture and Rural Development, with the aim of empowering black farmers in the province with knowledge and skills to operate a successful farming dairy enterprise. The department says that this would also contribute to the local economy and improve the livelihoods of its communities. The handover of the project takes place in accordance with a court order that was promulgated from 17 January 2019 to end on 17 January 2022 by the Free State High Court.
The DA calls on the Department of Agriculture, Land Reform and Rural Development to urgently address the shortage of locally produced Foot and Mouth Disease (FMD) vaccines, as well as other much needed livestock vaccines for diseases like Rift Valley Fever and Bluetongue. The DA's Noko Masipa emphasises that unless government takes the prevention of diseases like FMD seriously, it may end up creating an overstocking of non-tradeable livestock commodity because of the poor management of animal health. He says even farmers with access to the best veterinary services are bound to fail without locally produced vaccines to ensure the good health of their animals.
AND
The Presidential Employment Stimulus (PES) vouchers have been suspended with immediate effect until further notice. This suspension was announced by the national Department of Agriculture, which stated that it is reviewing, reengineering and redesigning stimulus implementations to address all challenges experienced. The department says in a statement that it received endless complaints from beneficiaries and the South African community at large. It further states that these challenges cannot be left unattended, hence the decision to temporarily halt the current implementation. The announcement follows after OFM News recently reported that the department had sent out a warning to all recipients of production input vouchers to refrain from misusing them. OFM News' Elsabé Richard reports that the programme was initiated to address the high rate of unemployment, whilst also seeking to sustain self-employment for subsistence producers.
OFM News